HIV-positive teachers urge China to end discrimination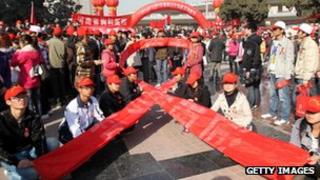 Three prospective Chinese schoolteachers have complained to the Beijing government that they have been denied jobs because they are HIV-positive, an activist has told the BBC.
The activist says there are contradictions in Chinese law.
The three teachers argues that a law protecting the rights of people with HIV should override rules barring HIV-positive applicants from public jobs.
Provincial courts have blocked the men's attempts at legal action.
Education authorities in the three provinces rejected the men's applications for teaching jobs after blood tests revealed they were HIV-positive, although they had passed written tests and interviews.
Guidelines state that civil servants should not be carriers of an infectious disease.
However, a five-year-old national law in China is supposed to safeguard the employment rights of people with HIV.
Petition submitted
Courts in the Chinese provinces of Anhui and Sichuan ruled against two of the men last year.
A third lawsuit was filed in Guizhou province, but the judge is said to have refused to accept it.
Yu Fangqiang, an HIV activist who heads the Nanjing-based organisation Tianxia Gong, said the three men had submitted a petition to China's State Council.
Mr Yu told the BBC: "Local governments often tend to obey regulations set up by a higher level which are against the national law.
"The State Council has the responsibility to check if there is any contradiction between departmental regulations and the law of the state: if there is, the regulations of the departments should be removed."
The petition was submitted a few days before World Aids Day on 1 December.
The Chinese government was slow to acknowledge the spread of HIV and Aids in the 1990s but has since stepped up the fight against the virus.
However many infected people in China still complain of discrimination.