Mystery over China's Wenzhou bullet-train crash inquiry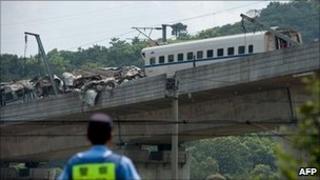 A Chinese safety investigator has sparked confusion after making contradictory comments about the cause of a bullet-train crash in July.
Wang Menshu was quoted as saying bad management had caused the crash in Wenzhou, which sparked a public outcry.
But later Mr Wang, the deputy director of the investigation, withdrew his comments and played down his own role in the investigation team.
The team's report has not been made available to the public.
Forty people died in the Wenzhou crash, which cast doubt on the feasibility of China's vast high-speed rail building projects.
And many web users became convinced that the government was trying to cover up the details of the crash to save its bullet-train project.
Initial comments made by safety officials in July suggested the crash had been caused by a signal failure.
But in a report by the Beijing Times on Monday, Mr Wang was quoted as saying human error was to blame.
"The local railway authority didn't use the equipment correctly, leading to a malfunction," he told the paper.
"After the equipment broke down, staff operated it improperly, causing one train to rear-end a stalled one, leaving 40 dead and around 200 injured."
People across China have been waiting to hear an official account of how the disaster happened, and Mr Wang's comments were immediately picked up by media outlets across the country.
But shortly after, the Beijing Times story appeared to have been removed from its website.
And on Tuesday Mr Wang told the state-run broadcaster CCTV: "I was not involved in the whole investigation.
"I did not have a general idea of the whole thing, and I did not know whether the conclusion had been submitted."
The investigation team has produced a report into the crash, and Mr Wang has been quoted as saying the report has been handed to the government.
But its contents have not yet been made public.