Obama's victory over China?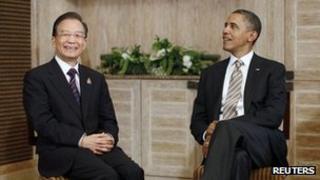 The spin from the White House is pretty simple. A week of summitry and speeches by President Obama resulted in the diplomatic equivalent of a bulls-eye.
China's Premier Wen Jiabao was "a little bit grouchy", we are told, when he was confronted by Asian leaders backed by America who wanted to talk about the tensions in the South China Seas, but then "by and large, he was very measured"; there was no "tirade".
That is being taken as a triumph for Mr Obama and his policy of re-engaging in Asia, re-positioning the US as a key player and guarantor of regional stability.
Mr Wen had very publicly said that he did not want to have China's disputes with the Philippines, Vietnam, Taiwan, Malaysia and Brunei brought up at the weekend's East Asia Summit.
Mr Obama though, attending the summit for the first time, had insisted it was the "premier" arena to discuss "maritime security".
'No showdown'
The summit brings together all 10 states in South-East Asia and other regional players - the US, China, Japan, South Korea, Australia, New Zealand, India and Russia.
The unnamed White House official briefed that the Philippines, Vietnam, Malaysia, Thailand, Australia and India had all raised the South China Seas issue. Seven more nations, including Russia and Indonesia, addressed concerns about maritime security.
The US official said that American pressure to bring up the issue had not led to any sort of confrontation, there was no "showdown at the OK Corral".
But he stressed the result was, the US believes, positive: "The Chinese will come away from the meeting believing that a heavy-handed approach on the South China Sea will backfire badly and there is a genuine consensus on the importance of a constructive process to find a peaceful way forward."
The White House view, then, is that American involvement helped put a tricky issue on the table and encouraged smaller nations to stand up to China.
It has also implied that China had to adopt a more constructive tone because it was shown that an aggressive pursuit of its territorial claims in the South China Sea would alienate many of its neighbours.
'Positive contribution'
China, of course, has its own spin on all this, best summed up by one headline that reads "China takes US return with aplomb".
Mr Wen, Chinese official reports stress, did respond so as not to be rude to his fellow leaders.
"I don't want to discuss this issue at the summit, however leaders of some countries mentioned China on the issue. It's impolite not to make a return for what one receives," he said, according to the official Xinhua news agency.
"The South China Sea is an important transportation passageway for China, regional countries and even the world. The Chinese government has made a positive contribution to safeguard the navigation security in the South China Sea."
China, observers often say, does not like to find itself isolated in international gatherings and will seek to avoid confrontation. But that does not mean it will shift its fundamental positions on issues it believes are important.
The official China Daily's Monday editorial continued with the positive spin, saying that "a stronger US presence in the Asia-Pacific economic scene is good for all parties".
"That is why, in spite of all the speculation and rhetoric about US attempts to contain China, the Chinese side has by and large taken the US debut at the Bali summit as something constructive."
China, the paper says, is clear that its incredible growth "would have been impossible were it not for the peace and harmony achieved through decades of hard work" in Asia.
But the paper does not mean hard work by America. While the US believes its alliances and its military presence in the Pacific have underwritten peace in Asia, China has a different view.
"What the US has so far brought to the region, however, has the potential to disturb this elusive and fragile achievement," the China Daily said.
It accused America of trying to "scaremonger by exaggerating security concerns" and said that if Mr Obama was referring to China, those concerns were '"imaginary", because China had a great reliance on trade and so a real stake in keeping sea lanes open.
Many observers in China are now trying to work out whether Mr Obama is actually committed to deeper strategic engagement in Asia or whether he is really thinking about his own re-election, talking up ties with growing Asian economies as he is searching for ways to boost a flagging economy at home.
'Foul-mouthed officials'
And in case you thought the US intervention means there will be an outbreak of peace and harmony in the disputed waters of the South China Sea, the official Xinhua news agency issued a new broadside on Monday, directed at the Philippines.
The Philippines has one of the most tense disputes with Beijing over the South China Sea. China claims hundreds of miles of ocean, right up to a few dozen miles from Philippine territory.
The Philippines has renamed parts of the South China Sea as "the West Philippine Sea". Government officials have criticised China publicly and they have stressed their mutual defence agreement with America.
Xinhua thundered that the "Philippines' constant provocations are mostly political stunt" and the work of "some foul-mouthed Philippine officials" who, it said, echo "Washington's 'Return to Asia' Strategy".
It went on: "Many people here in China advise that the country should take fitting measures to pay the Philippines back, as they believe it is necessary to prevent another country taking a leaf out of the Philippines' book against China."
The commentary also warned the Philippines that "some analysts take it as risky that Washington would stake its prestige on a remote, strategically third-rate ally when it provokes a clash with a neighbouring far stronger nation".
And Xinhua had a warning too for Mr Obama, saying: "It is wise for the US to avoid getting embroiled in the intricate disputes poisoning regional politics, in lieu of what it is currently doing: sowing discord or acting as an agitator in the flare-up."
It all sounds much worse than grouchy. If anything it reads like a heavy-handed tirade, and peace and harmony do not get a mention.
So while America's new policy of engagement may have encouraged China's neighbours to speak out and China's leaders to listen, unwillingly, back in China, it has only fuelled the angry, bellicose talk of some.