China morning round-up: Space mission declared success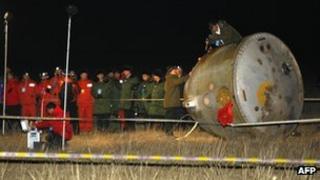 Media across China have celebrated the latest space mission, hailing it a success as the unmanned Shenzhou 8 craft returns to Earth.
In a front page editorial, the People's Daily described the nation's first docking manoeuvres in orbit by Shenzhou 8 and Tiangong-1 as "an important leap".
In the coming year two more spacecraft, at least one manned, will be launched to dock with the Tiangong-1 space module to better hone the technology, reports the China Daily.
As the Asean summit is about to begin major papers including the People's Daily and China Daily report on Premier Wen Jiabao's arrival in Bali, and his meeting with the Indonesian President Susilo Bambang Yudhoyono.
Mr Yudhoyono holds China's work to solve the South China Sea dispute in high esteem, reports the China Daily, while Global Times describes the Philippines' claim in South China Sea as "high profile", and the US is "giving" navy vessels to Manila "for nothing".
The debate on child safety after the deadly crash of an overloading school bus in Gansu province is still going on.
Beijing News appeals for "school bus legislation" to protect special rights on roads for those vehicles.
West China City Daily in central Sichuan province reports on how a "proper school bus" being displayed in a recent "educational equipment" trade fair ended up with no orders as people are deterred by its high price.
Guangzhou's 21 Century Business Herald, citing an investment commentator, appeals for a national procurement for school buses to be carried out.
With 1tn yuan ($160bn; £100bn) to be spent in five years, the commentator suggests that this could generates an extra annual growth of 0.3 percentage points to China's GDP, while also protecting school children's safety.
In Hong Kong, major papers including Singtao Daily report that two of the "suspected candidates" for next year's Chief Executive election are finally setting dates to launch their campaign.
The South China Morning Post is reporting how the current Chief Executive Donald Tsang is embarrassed by a public relations blunder.
Mr Tsang's official Facebook page pasted a video praising the "wonderful game" on Tuesday night between young footballers from Hong Kong and Russia - an hour after the city's corruption-buster ICAC has confirmed the arrest of one of the Hong Kong team players for match-fixing allegations.
And The Standard carries a report which follows up the mysterious dumping of 10,000 bottles of wine on the street in Hong Kong earlier this month.
All these wine are fake, containing only water with colouring, according to the Chilean consulate in Hong Kong.