China morning round-up: US Asia policy under fire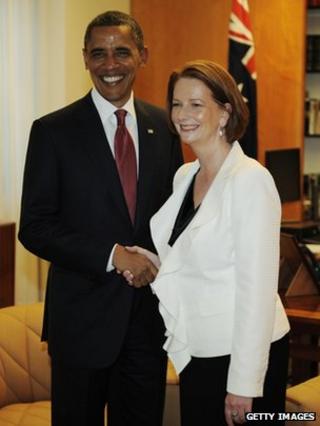 National newspapers in China have launched furious attacks on US President Barack Obama's announcement of closer military links with Australia.
Coverage can be found on newspapers ranging from the People's Daily to the Global Times, with China Daily illustrating the story with a picture of Mr Obama kissing the Australian Prime Minister Julia Gillard as he arrives in Canberra.
The Chinese edition of Global Times described reactions from the Chinese and US authorities as "bickering"; a commentary piece in the overseas edition of People's Daily appeals for calm.
In a separate Chinese editorial, Global Times appeals for China to "ignore" the Philippines diplomatically as a punishment for Manila's attempt to seek US support on the South China Sea dispute.
"Let the Philippines pay the real price," says the editorial, but it does not elaborate on how to carry out this policy.
The mysterious visit of Zimbabwean President Robert Mugabe is briefly mentioned in the People's Daily as he meets Chinese Vice-President Xi Jinping in Beijing. His previous stopover in Hong Kong only came to light when it was reported by state media in Zimbabwe.
Newspapers are also paying much attention to a school bus crash in north-west China's Gansu province. At least 20 people killed, most of them nursery-school pupils.
Reports from Global Times and People's Daily suggest that the school bus had a capacity of nine seats including the driver, but it was carrying 64 people in total as it collided head-on with a lorry in Zhengning county.
An editorial in Guangzhou's Southern Metropolis Daily appeals for a standardised school bus management system to be set up, citing an earlier comment by Premier Wen Jiabao on child safety.
Also, people worrying about air quality across the country seem to have won a victory as the Ministry of Environmental Protection is now publishing consultation documents on new monitoring measures.
"The country's existing Air Pollution Index will also be upgraded into the Air Quality Index," reports the China Daily, "this will follow international practices to include ozone and carbon monoxide pollution levels as well as PM2.5".
In Hong Kong, newspapers including the Standard and sister paper Singtao Daily are stunned after a young footballer is arrested for allegedly attempting to fix an under-21 international match between Hong Kong and Russia.
"It is very disappointing that this has happened, but we are very happy that none of the other players took up the arrested player's offer," a spokesman for the Hong Kong Football Association said, quoted by the South China Morning Post.
Ming Pao Daily News reports on the election for the new management of Lingnan University's Student Union, as the only candidate for presidency admits that he is a Chinese Communist Party member.
Student unions in Hong Kong's universities and colleges have a tradition of supporting "rehabilitation" for victims in the 1989 Tiananmen crackdown in Beijing, and having pro-Beijing connections is a big taboo.