Vladimir Putin in China Confucius Peace Prize fiasco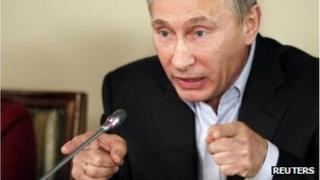 Organisers of the Confucius Peace Prize - China's alternative to the Nobel Peace Prize - say they are determined to give the award to Vladimir Putin, despite opposition from Beijing.
The Culture Ministry announced earlier that the award would not be given this year and disbanded the prize committee.
But committee member Qiao Damo, a poet, says he has set up a new panel and insists that a ceremony will go ahead.
He said Mr Putin was chosen for his opposition to Nato's Libya bombing.
"This year's peace prize was given to him because his act this year was outstanding in keeping world peace," Mr Qiao told AFP news agency.
And a statement attributed to Mr Qiao's new panel also paid tribute to Mr Putin's actions in going to war in Chechnya in 1999.
"His iron hand and toughness revealed in this war impressed the Russians a lot, and he was regarded to be capable of bringing safety and stability to Russia," the statement said.
It is unclear whether the Russian prime minister is aware of the award.
Award night confusion
The Confucius Peace Prize was established last year, apparently with official backing from Beijing, shortly after the Nobel committee announced it was awarding the peace prize to Chinese dissident Liu Xiaobo.
Mr Liu has been in jail since 2008, and the decision to award him the Nobel Peace Prize enraged Beijing.
Last year's Confucius Prize went to Taiwanese politician Lien Chan.
But it was unclear whether he was made aware of the award, and he failed to turn up for the ceremony.
A young girl was given the award in his place, though the organisers refused to say who she was or why she was chosen.
The Culture Ministry announced in September that the award would not be given this year.
But Mr Qiao set up an organisation called the China International Peace Studies Center in Hong Kong, which he says consists of artists and intellectuals independent of the government.
He said an awards ceremony would be held on 9 December - a day before the Nobel ceremony.
"I feel the Noble Peace Prize has gone too far away from peace, and their standard has gone too far away from the essence of peace," he said.
"Western values are not perfect and need an alternative to balance them out."