China morning round-up: Hu Jintao hits back on yuan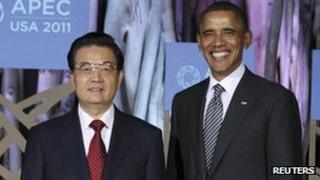 Newspapers across China have reported on Chinese President Hu Jintao's meeting with US President Barack Obama at the Apec summit, as Mr Hu hits back on Washington's call for yuan appreciation.
The yuan's exchange rate "did not cause structural problems in the US economy, such as the trade deficit and unemployment", President Hu told his US counterpart.
"Even an abrupt yuan appreciation could not solve the problems the US is facing," President Hu said, quoted by newspapers including the China Daily and People's Daily.
The overseas edition of People's Daily carries a commentary piece saying the US is running out of ideas in dealing with its huge national debt, while China Daily also hits out on Mr Obama's "trans-Pacific objectives".
Some newspapers are reporting on China' s latest policies in Tibet.
Global Times reports on the regional government's party secretary has pledged to consolidate the social welfare of Tibetan monks.
The government is also to promote "legalisation and normalisation of monastery management, as a move to boost national unity", says Chen Quanguo, Chinese Communist Party's committee secretary in Tibet.
The scandal-hit Ministry of Railway has sacked at least 10 officials in response to a recent fraud case in the northeast province of Jilin, reports China Daily and the Beijing Times.
Recent media reports revealed that the foundations for two major railway bridges along the Jingyu-Fusong Railway were built by unqualified workers, some of whom were "former cooks".
The ministry has also ordered reconstructions for all the problematic foundations.