China: Yunnan gas-leak mine 'is illegal'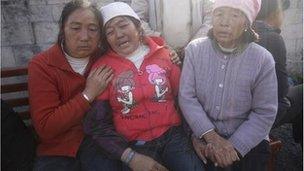 A Chinese mine where 21 workers were killed on Thursday and 22 more remain trapped was being operated illegally, state media has reported.
The pit, in the south-western Yunnan province, lost its licence a year ago.
The government has tried to shut down illegal mines as it battles to improve the industry's terrible safety record.
A huge rescue operation is still going on at the mine. Investigators believe a sudden release of gas into the pit trapped the miners.
But there are conflicting accounts of whether it was an explosion or a leak.
The incident happened early on Thursday at the Sizhuang mine in Yunnan province's Qujing city.
A day later, no survivors have been found.
State-run Xinhua news agency reported that the colliery area was shrouded in coal dust that was forced out of the shaft by the burst of gas.
Relatives of the miners have gathered at the pit, some of the wailing and crying.
Xinhua quoted local work safety officials saying the mine had been operating without a licence when the accident happened.
For years, the central government has been waging a campaign to make mines safe.
Much of their focus has been closing down illegal mines, where safety standards can be extremely lax.
The official death toll in pits has come down from a high of about 7,000 in 2002 to about 2,600 in 2009.
But analysts say the Yunnan disaster and another tragedy last week in Henan province serve as reminders that mining in China remains one of the world's most dangerous occupations.