Renegade China soldiers 'killed' after Jilin emergency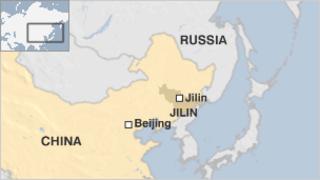 Three Chinese soldiers who fled their barracks armed with a rifle and hundreds of bullets are reported to have been killed.
A fourth soldier who also fled from the Jilin city base was captured by police, state media reported.
The deaths were confirmed by officials on a microblog website, and the escape was reported by the Communist Party mouthpiece, the People's Daily.
But later, reports on both websites appeared to have been removed.
The government frequently takes down news stories and blog posts in a process dubbed "harmonising" by web users.
As of Thursday, the website of state-run outlet Chinese Radio International still had a report describing the incident.
It said the four soldiers - aged between 18 and 23 - had been trapped by police in Yingkou city, about 300 miles (480km) from Jilin.
Three were shot and killed at the scene, and the fourth captured.
As the authorities searched for the soldiers, an alert was put out in Jilin for banks and jewellers in the city to close.
No reason has been given for the soldiers' actions.