China morning round-up: Cabinet vows fakery crackdown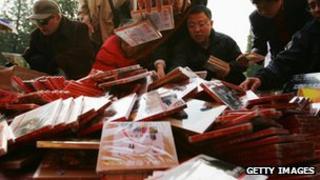 China's Cabinet has vowed to carry out further crackdown on counterfeiting and fake products, as it lashes out at the ignorance of local governments.
A Xinhua news agency report, carried by the People's Daily, says the State Council has decided to intensify its monitoring on pirated products, especially those from industries such as food, medicine, construction and farming materials.
The same meeting also passed guidelines on China's efforts to cut emissions, which include policies such as research on establishing a carbon trade market.
At the same time, China Daily reports that China's carbon intensity - which compares the country's emissions with each unit of its economic growth - has dropped by 20.8% from 2006 to 2010, according to a report released by Tsinghua University on Wednesday.
National papers are also reporting on the latest inflation figure released on Wednesday. People's Daily overseas edition says this means the country's macro-economics control policies are working, and the CPI will hopefully fall further below 5%.
The problem-hit Mars probe that was launched jointly by China and Russia appears mainly on national English-language newspapers, including the China Daily and the Global Times.
Citing a researcher from the China Academy of Space Technology, the Global Times says there is still a chance of saving Russian's Phobos-Grunt.
In the Chinese-language media, the story was mainly limited to local papers including the Shanghai Morning Post.
Newspapers in Hong Kong have been reporting on another forgery website story - and this time the victim is Hong Kong's Journalists Association.
The forgery site carries pictures of "press cards" bearing a Hong Kong SAR emblem, says South China Morning Post, and urges reporters to apply for one if they want to cover events in Mainland China.
Mak Yin-ting, the Association's chairperson, told Ming Pao Daily News that they are going to report this case to the police, but they have no idea if the motive for this fake website is to steal personal information, or if there could be a political motive.
The trade union has been vocal on issues including press freedom in Hong Kong as well as Mainland China.