Taiwan man says China police kept his amputated hand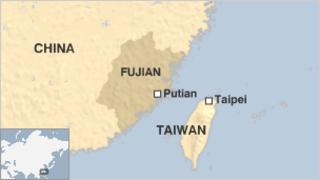 A Taiwanese man has returned from a visit to mainland China saying police there refused to return a hand that had to be amputated after a robbery.
Hu Chi-yang, 60, said three robbers tried to cut it off so they could take his Rolex watch and gold ring in Putian in south-eastern Fujian province.
Mr Hu said police wanted to keep the hand as evidence.
The incident has since been taken up by media in Taiwan, where Taiwanese rights on the mainland are a sensitive issue.
Police report
Mr Hu was visiting his fiance in Putian when he was attacked.
With the hand nearly dismembered, the robbers ran off with Mr Hu's watch, ring and about $600 in cash.
Mr Hu was rushed to hospital. But police officers arriving at the scene delayed the surgery, insisting they first had to write a police report.
Three to four hours later, doctors told Mr Hu that even if they had reattached the hand immediately, it would have been useless because the bones had been shattered.
Mr Hu then decided to have the hand amputated. But he wanted it back nonetheless.
The police officers, however, insisted on keeping it as evidence.
Mr Hu's daughter says her father is recovering well in a hospital in Taiwan.
He does not plan to ever return to mainland China.
What has also upset the family was that the semi-official Taiwanese agency (the Straits Exchange Foundation), in charge of aiding Taiwanese people in mainland China, did nothing to help.
The agency has apologised.
The incident has further fuelled concerns in the Taiwanese media that Taiwanese people lack protection in mainland China.
Taiwan and the mainland do not have formal diplomatic ties.
There are no embassies or consulates there because Beijing sees the island as a province, not a country.