Chinese basketball star Yao Ming returns to college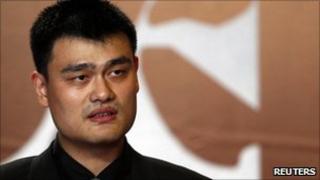 China's biggest sports star, basketball legend Yao Ming, has returned to college months after he announced his retirement from the game.
"The teacher showed me some mercy and didn't leave me any homework," Mr Yao told reporters after his first day at Shanghai's Jiao Tong University.
The 7ft 6in (2.3m) ex-Houston Rockets player is getting a tailored degree course in economics.
He retired in July after being plagued by foot injuries for most of the year.
At the time, he said he would join up with Chinese team the Shanghai Sharks, possibly in the role of general manager.
But late on Monday the 31-year-old held a news conference detailing his first day back at college.
"I haven't been to school for more than 10 years, so it's a little bit difficult at the beginning. I need some time to adjust to school life," the China Daily newspaper quoted him as saying.
Mr Yao is the NBA's most famous Asian player, but injuries forced him to miss the 2009-2010 season.