China morning round-up: Ai Weiwei's tax 'loan' appeal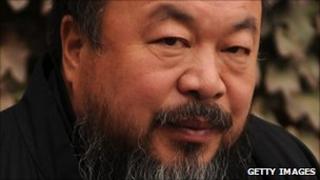 Outspoken Chinese artist Ai Weiwei is appealing for a loan from supporters in order to pay his tax evasion penalty, according to Chinese media outlets.
Chinese authorities served Ai Weiwei with an official demand last week, telling him to pay 15m yuan ($2.3m; £1.4m) within 15 days, the artist has said..
Beijing's Global Times carries a commentary on Monday criticising Mr Ai for making a "dramatic twist" to the case.
Those donations will not change the "mainstream public's" view towards his case, says the commentary.
It went on: "It is absolutely normal for a certain number of people to show their support for him with donations. But these people are an extremely small number when compared with China's total population."
The Railway Ministry's 1tn yuan debt is again occupying pages on some major Chinese newspapers.
They report that the ministry is seeking help from the central government to facilitate some 800bn yuan - which Guangzhou's Southern Metropolis Daily has described it as a bail-out.
Various papers also carry brief reports on Premier Wen Jiabao's first day of visit in St Petersburg, where he is to attend a meeting of the Shanghai Cooperation Organisation (SCO).
In north-east China's Liaoning province, the county government of Jianping has been displaying mobile phone numbers of some 4,700 officials on a big TV screen just outside the county hall, says the People's Daily.
The paper, which is the Communist Party's mouthpiece, reports that the move is an initiative to increase transparency.