Death of petitioner to be investigated in Hunan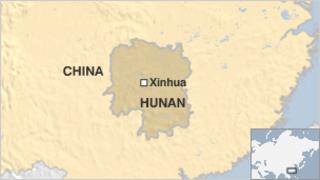 Authorities in China's Hunan province are to investigate the case of a village leader found dead after he went to petition the local government.
You Ji'an's body was found in a river in Xinhua county five days after he left to meet county officials.
Police said that he drowned but his family say he was killed by security guards for the local government.
The case has attracted attention in the media and on the internet.
Some commentators have drawn parallels with that of Qian Yuhui, a village chief who led local protests against the construction of a power station.
He was crushed to death by a lorry last December. The authorities said it was a traffic accident, but local people suspected foul play.
'Drowned'
Police found Mr You's body on 13 June in a river. Five days earlier, he had gone to the compound of the county government to petition to get his job as an electricity bill collector back.
His son claims CCTV footage shows him being carried motionless from the compound but police deny this, local media reports say.
Police say he drowned but his family say he had rib and head injuries, the reports say.
Last week, his family launched an appeal for justice on the internet.
They have accused the local government of trying to "settle" the problem by paying them a 100,000 yuan ($15,700, £9,850) subsidy for the funeral and offering subsidised housing.
A propaganda official from Xinhua County now says that leaders from the provincial government have ordered a "through investigation" into Mr You's death.