China morning round-up: Hu Jintao and the G20 summit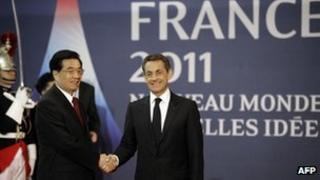 The G20 Summit in France has occupied many of the front pages in China, with most papers paying heavy attention to the address made by Chinese President Hu Jintao at the summit.
In the speech, Mr Hu urged the international community to "provide support and help" to the debt-ridden eurozone, and to unify their approach.
They also focus on his meeting with other emerging-world leaders of the so-called Brics nations - Brazil, Russia, India and South Africa. China Daily is among those papers that play up the role of China and its Brics allies.
Local papers are following up a story from Hunan Province where a village head was allegedly beaten to death back in June.
You Ji-an, from a village in Hunan's Xinhua county, was said to have been petitioning to the county government. Initial police investigations suggest that he was drowned, but family members and local villagers strongly doubt the findings.
Guangzhou's Southern Metropolis Daily reports that local police will agree to holding another autopsy if You's family make the request, while Beijing News says in its editorial that some government officials used promises of cash in an attempt to persuade You's family to cremate his body.
Southern Metropolis Daily is also following up the story of a new-born boy who was pronounced dead by hospital staff but was later found alive in a plastic bag.
Some medical staff have now been suspended, and the paper's editorial suggests that this incident has further intensified a long-lasting mistrust between patients and medical staff in China.
Suspension of railway construction projects has been a hot topic for a while, and Beijing Times reports that the Ministry of Railways will settle most of its debts for these new projects by 20 November in order to restart work.
The ministry's debts are estimated to be at 200bn yuan ($31.5bn; £20bn), says the Beijing Times.