China morning round-up: Space docking hits front pages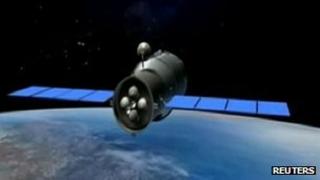 China's first spacecraft docking has occupied the front pages of many Chinese newspapers.
The national People's Daily is running a commentary saying China has made a major step into "the age of space station". It also reiterates that China intends to develop manned space activities "for the sake of mankind".
Regional and local papers have a more colourful account. Shanghai's Jiefang Daily and Wen Hui Bao are among those who describe this docking as a "kiss" between the two spacecraft - Shenzhou-8 and Tiangong-1.
As the G20 Summit is about to begin in Cannes, discussions are heating up on whether China would become the saviour for the European debt crisis.
The China Daily was among the papers picking up Mr Hu's comment in French paper Le Figaro saying that China "sincerely wishes to see stability in the eurozone and the euro".
But Guangzhou's 21 Century Business Herald plays down the possibility that a solution to the crisis will be offered in the Cannes summit.
In an analysis piece, the Herald's reporter says there could hardly be a practical solution to the debt crisis, and it will also be hard to see any commitment from emerging countries to support Europe.
China later said it could not commit to investing in the European Financial Stability Fund (EFSF) until the situation with Greece has been clarified.
Elsewhere in China, the Southern Metropolis Daily reports that a couple in their 30s have been caught smuggling in some 4m yuan ($629,900) of luxury items at a boundary checkpoint in Shenzhen.
The couple, from Shanxi, have claimed that they were doing "coal business", and Chinese customs officers believe that they bought these items - including iPhones, Prada handbags and diamonds - from neighbouring Hong Kong.
According to China's criminal code, they could be prosecuted for general smuggling since these luxury items could be taxed for over 50,000 yuan. The couple could face up to three years in jail, says the report.
Shanxi is one of the major coal mining province in China.
Rich mainland Chinese tourists buying large amount of luxury goods in Hong Kong is now a common phenomenon.