Coronavirus: Asian nations face virus battle amid WHO warning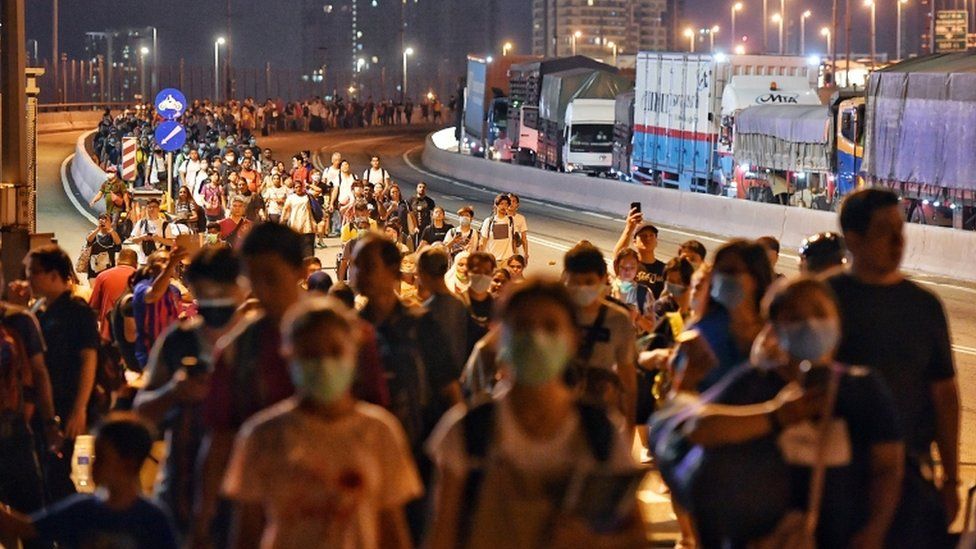 Many Asian nations are facing an increasing battle to stem the spread of coronavirus, amid a World Health Organization warning that some needed to take "aggressive measures".
Malaysia, Sri Lanka and the Philippines are among nations imposing strict border controls.
Cases in the South Asian subcontinent are still below 500 but there are fears a spike could overwhelm health systems.
There are 185,000 cases globally, with 7,500 confirmed deaths.
Some nations and territories that had seen success in controlling the virus or slowing its arrival, including South Korea, Hong Kong and Taiwan, have seen new spikes, amid fears people returning from abroad are importing the virus.
What was the WHO warning?
It was issued for the organisation's South East Asia region, although this contains 11 nations spread widely, including Indonesia, Sri Lanka, Thailand, Bangladesh and North Korea.
Poonam Khetrapal Singh, regional director of the WHO South East Asia region, said on Tuesday that "more clusters of virus transmission are being confirmed".
"We need to immediately scale up all efforts to prevent the virus from infecting more people," Dr Khetrapal Singh said. "We clearly need to do more, and urgently."
The WHO said the numbers in its South East Asia region showed that "some countries are clearly heading towards community transmission of Covid-19".
It called for continued efforts to "detect, test, treat, isolate and trace contacts".
Dr Khetrapal Singh said "practising social distancing [could] not be emphasised enough... this alone has the potential to substantially reduce transmission".
"We need to act now," she said.
Many regional countries inside and outside the WHO's definition of South East Asia have had a slow response to the outbreak, only taking drastic measures in recent weeks or days as the number of cases continue to grow.
Where are the infections increasing?
Almost all nations are seeing increases, although the rates vary widely.
China still has the highest number of confirmed cases, with more than 80,000, but its new infections are almost exclusively from people arriving from abroad and are very low.
It has been ahead of other nations by testing thousands of people and had seen a downward trend in new infections.
But there are now small clusters breaking out across the country, with 93 more cases in the past 24 hours. Dozens of sick and elderly patients in a hospital in Daegu were infected.
Taiwan announced its largest single-day increase in new cases - 23 - bringing the total to 100.
The trend was mirrored in Hong Kong - 14 cases in a single day is the highest in the territory, all but one brought in from abroad.
Indonesia on Wednesday also announced its biggest daily rise, 55 more cases taking the total to 227, with 19 deaths.
Pakistan's cases have now risen to 245, with the total of reported cases for the South Asian subcontinent reaching 482.
Thailand reported 35 new cases on Wednesday, taking its total infections to 212, officials said. Four of the cases were linked to an entertainment venue and 13 to a boxing bout, both in Bangkok.
Malaysia has warned of a fresh spike in cases, saying there is only a "slim chance" of breaking the chain of infections.
A mass Muslim gathering last month is linked to nearly two-thirds of its infections and thousands of attendees are yet to be tested.
Myanmar and Laos have both not reported any cases - though experts have seriously doubted the credibility of this.
A spokesperson for Myanmar's government claimed that people's "lifestyle and diet" had protected them from the virus. But it has imposed restrictions on arrivals and the UK government is now advising against all but essential travel there.
There are also no reported cases of the virus in Timor-Leste.
What are the nations doing?
From Wednesday, Malaysia is preventing citizens from travelling overseas and visitors from entering until 31 March at least.
Many Malaysians who commute to work in Singapore had to queue to cross the border before the midnight deadline, and will have to stay there.
Streets in the Malaysian capital Kuala Lumpur were largely empty and supermarket chains are enforcing limits on purchases of staples.
Thailand has closed schools, bars, cinemas and other entertainment centres.
The Philippines, which has 202 cases and 17 deaths, has imposed some of the toughest movement controls, effectively quarantining about half of its 107 million population.
But it reversed a decision to ban all international flights, and foreign nationals may now fly out, although arrivals will face strict quarantine protocols.
Taiwan will on Thursday ban foreigners from entering, apart from in some exceptional cases. Everyone arriving, including Taiwanese, will have to go into quarantine for 14 days.
Japanese media report that visas issued to European travellers will be invalidated and people arriving from 38 nations will have to self-quarantine.
Pakistan's Prime Minister Imran Khan urged calm in a TV address, saying: "There is no need to worry. We will fight this as a nation. And God-willing, we will win this war."
From the weekend, all air passengers arriving in Pakistan from abroad will need to show a certificate declaring them free of coronavirus.
Sri Lanka is banning all incoming flights for two weeks from Wednesday and will apply price controls on staple products.
Nepal is banning arrivals from a number of countries, include all European.
India, which Johns Hopkins says has 142 cases, has shut nearly two dozen long distance train services.
Indonesia has unveiled an $8bn (£6.6bn) stimulus package to boost economic growth, including tax breaks, and police have ordered shops to ration purchases of staple foods amid reports of panic buying.
President Joko Widodo admitted recently that he had deliberately held back information about the spread of the virus to prevent panic.
A 57-year-old man in Japan who had threatened to "scatter" his disease after testing positive has reportedly died.