Indonesia mine collapse: Dozens buried by landslide in Sulawesi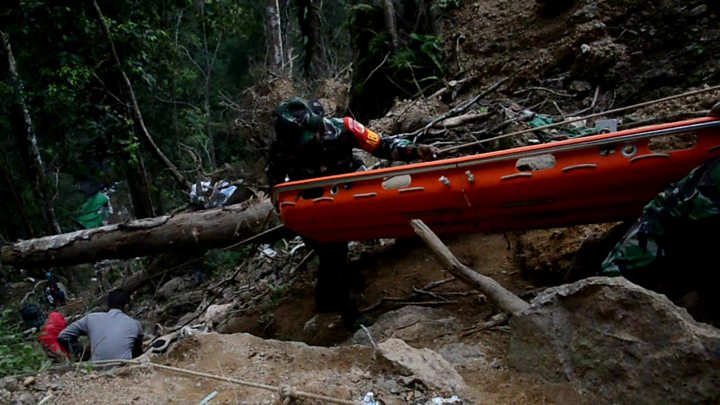 Rescuers are working frantically to find dozens of people thought to be buried at an illegal Indonesian gold mine after a landslide on Tuesday.
They are searching for survivors at the site, in the Bolaang Mongondow area, on the island of Sulawesi.
Seven people have died and at least 19 have been rescued, officials say.
Rescuers are hampered by the steep terrain and muddy, unstable ground, which means heavy lifting machinery cannot be used.
They are having to use their bare hands, as well as spades and ropes, to get people out. The survivors are being carried away in makeshift stretchers.
One local official said cracks had appeared at the mine, which collapsed on Tuesday and triggered a landslide, raising fears of a further collapse.
Dozens of people were mining for gold when support beams gave way at the mine due to shifting soil land and numerous mining shafts, officials said. The collapse then triggered a landslide.
A local official said it was difficult to say exactly how many were trapped underground:
"We think there are still many people inside the mine, because it is an illegal mine, so we cannot predict," said Yasti Soepredjo, head of the Bolaang Mongondow region.
"Based on statements from people who survived, the numbers are inconsistent. Some say there were more than 100 in the mine, some said about 80. We are still in the dark when it comes to the actual number."
Small-scale gold mining is banned in Indonesia but remains widespread in rural areas. Lack of regulation and the poor construction of makeshift mines means accidents are relatively frequent.
Campaigners have long argued that a lack of local employment opportunities mean people feel forced to rely on illegal mining.