PNG security forces storm parliament over Apec pay dispute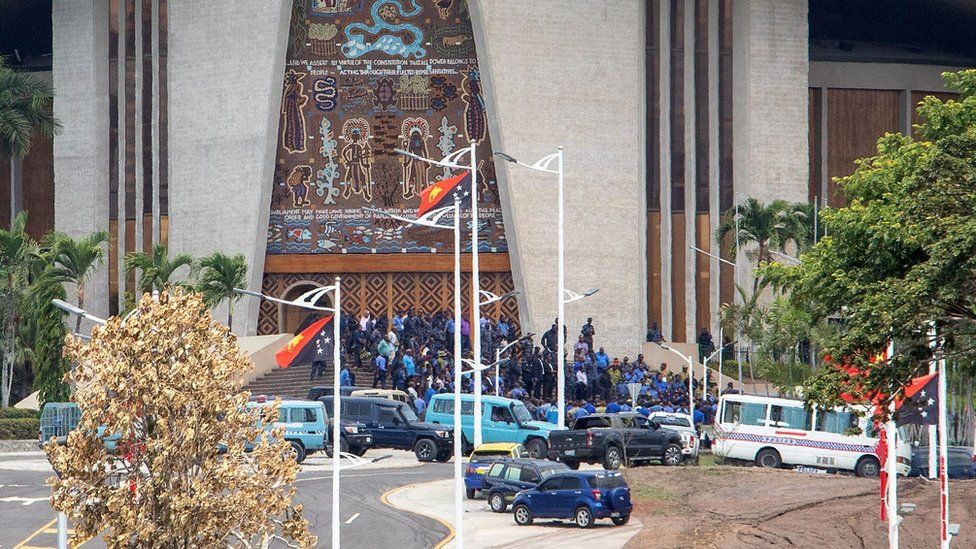 Police and security forces have stormed Papua New Guinea's parliament in a dispute over unpaid bonuses for last week's Apec summit, lawmakers said.
The group reportedly smashed windows and furniture in the building, located in the capital Port Moresby.
The impoverished island hosted leaders from both sides of the Pacific last week despite the high costs involved.
The summit had seen delegates stay on cruise ships and the government buy 40 Maserati luxury cars for the event.
The police officers and security forces headed to parliament to vent their anger after meeting police authorities to discuss allowances they had been promised, MP Bryan Kramer said in a video posted on Facebook.
A witness outside parliament described "hundreds of police and troops" on the building's front steps, complaining they had not been paid their special bonus of 350 kina (£81, US$104), according to news agency AFP.
"It was the armed forces, police and correctional workers. They have entered the parliament and just smashed everything up," parliamentarian Allan Bird told Reuters news agency.
"They were yelling: 'Corrupt government, bloody government' and so on. They were taking their frustration out on the furniture," he said.
According to the Post Courier newspaper, the speaker of parliament has called for an investigation.
Port Moresby hosted delegates from 21 countries for the Asia-Pacific Economic Cooperation summit last week, including Chinese President Xi Jinping and US Vice-President Mike Pence.
Special forces from Australia, the US and New Zealand were flown in to help provide security in the notoriously dangerous city.