Sheikh Hasina: Lawsuit threat over Bangladesh PM 'tail' error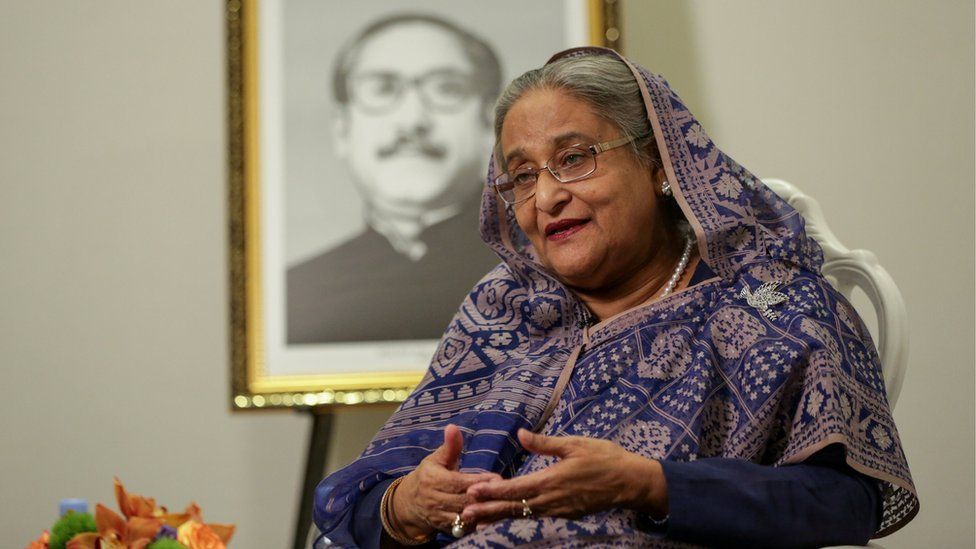 A supporter of Bangladeshi PM Sheikh Hasina threatened to sue a cinema over a spelling error that inadvertently suggested she had a "tail".
The cinema in Dhaka misspelled the title, Hasina: A Daughter's Tale - but has since corrected it.
Hasina supporter Saad Chowdhury said the word tail was "elfish"; suggested part of an animal, and was humiliating.
He demanded the Blockbuster cinema correct the error and apologise publicly or face a $90m (£70m) lawsuit.
Bangladesh will hold a general election next month, with Prime Minister Hasina and her Awami League hoping to retain power.
Mr Chowdhury, a former general secretary of the Bangladesh Awami British Law Students Union, is not acting officially on behalf of the party.
His lawyer, Nawroz Chowdhury, said his aim had been to have the error corrected as soon as possible.
The legal notice sent to the cinema at the Jamuna Future Park shopping mall describes him as a "diehard supporter" of Ms Hasina while the film itself is repeatedly referred to as "legendary".
The topic is trending on social media, where opinion is split.
"How should I react - laugh or cry? Tale becomes tail which is definitely defamatory," said Facebook user Mokbul Hossain.
"It's just a typo, bro. Apparently, you are using cannons to fight mosquitoes," commented Facebook user Shaqlain Shayon.
The biopic about Ms Hasina - daughter of Bangladesh's first president Sheikh Mujibur Rahman - has been described by the Dhaka Tribune newspaper as a docudrama and features Ms Hasina's sister Sheikh Rehana as narrator.