Anwar Ibrahim returns to Malaysian politics with by-election win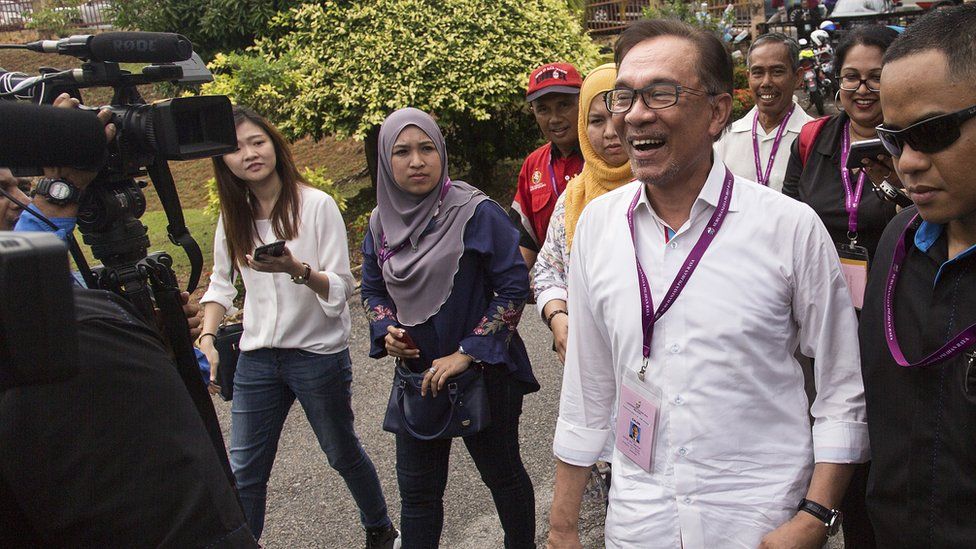 Malaysian ex-deputy Prime Minister Anwar Ibrahim has won a parliamentary seat, sealing his return to front-line politics.
The 71-year-old won a by-election in the town of Port Dickson on Saturday.
Mr Anwar's former rival and current Prime Minister Mahathir Mohamad - who is 93 - has promised to hand over power to him in two years' time.
According to the Election Commission, Mr Anwar received 71% of Saturday's votes from Port Dickson, where a member of the current coalition stepped down to allow for his accession.
Greeted by supporters at a polling station in the coastal town, Mr Anwar had told an AFP reporter: "I will see you in parliament on Monday."
Political drama resolved?
Dr Mahathir's election win, at the head of the then-opposition party Pakatan Harapan, ended more than six decades of rule by the Barisan Nasional (BN) coalition.
Both he and Mr Anwar were formerly in power, as part of the BN, as PM and deputy respectively.
Mr Anwar was seen as Dr Mahathir's heir apparent but the relationship soured when Mr Anwar was sacked in 1998 after a leadership dispute, and then jailed on corruption and sodomy charges, widely regarded as politically motivated.
In 2004, his sodomy conviction was overturned and he led the opposition to unprecedented gains - though remained short of victory - in the 2008 and 2013 general elections.
But that acquittal was itself overturned a year later - as he was preparing to fight a state election he seemed likely to win - and he was sent back to jail to finish his nine-year term.
Mr Anwar has since insisted he holds no malice towards his former mentor, who secured his royal pardon.