Indonesia tsunami: Authorities fight hoaxes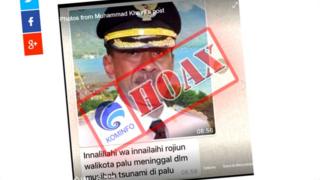 Authorities in Indonesia say they have identified individuals spreading hoaxes following the earthquake and tsunami that devastated parts of Sulawesi and killed more than 1,400 people.
The government has released a list of eight instances of reports being spread on social media and chat platforms which it says are incorrect.
Local police say that they wasted time and resources checking out one hoax which claimed that a local dam was near to collapse, and the force's chief says that officers "know the identities" of those spreading rumours.
Meanwhile, the country's national disaster agency spokesman has posted messages countering rumours on his Twitter account, and his tweets have been shared thousands of times.
What are the rumours?
It appears that the spread of hoaxes on platforms such as Twitter and Facebook led the government to produce a point-by-point rebuttal of fake news surrounding the disaster.
Indonesia's Ministry of Information and Communication published two press releases in two days countering hoax messages spreading on social media.
In their 2 October communiqué, the ministry laid to rest rumours of the damaged dam, as well as pointing out that graphic photos circulating on the internet showing bodies and rescue efforts come from earlier disasters, including the Boxing Day tsunami of 2004.
The government also dismissed rumours that a further earthquake, stronger than the 28 September quake, had been forecast.
"In fact, there is no country in the world with the science and technology capable of predicting earthquakes with certainty," the press statement said.
And the ministry said rumours of the mayor of Palu's death were greatly exaggerated. "In fact, Palu Mayor Hidayat did not die and is now carrying out emergency work in Palu, Central Sulawesi," it confirmed.
Twitter fight-back
Also leading an official fightback against hoaxes and fake news content following the tsunami disaster is Sutopo Purwo Nugroho, national spokesman at Indonesia's BNPB disaster agency.
Despite receiving treatment for advanced lung cancer, Dr Sutopo used his Twitter account to put the record straight, with his tweets being shared thousands of times.
Notably, the eruption of Mount Soputan on Sulawesi island in the days following the tsunami lead to social media users posting footage of volcanic eruptions and dramatic lava flows which were not related to Indonesia.
"This video is a HOAX" he said of one clip showing drivers fleeing an eruption. "Ignore and do not share on social media".
Twitter users have shared this message more than 4,500 times.
Government hoax-slayers
With more hoaxes and fake news likely to surface in the days following the tsunami disaster and subsequent volcano, the government has appealed to the public to be its eyes and ears on social media.
After appealing to the public at large not to circulate hoax information, the information ministry called on people to contact them with rumours, photographs or footage which could be fake.
The ministry's complaints team on Twitter is given as the point of contact. Set up in May, it has become the central point for dealing with fake and objectionable content on the Indonesian internet.
BBC Monitoring reports and analyses news from TV, radio, web and print media around the world. You can follow BBC Monitoring on Twitter and Facebook.