North Korea claims NHS and Sony hack suspect 'doesn't exist'
By Alistair Coleman
BBC Monitoring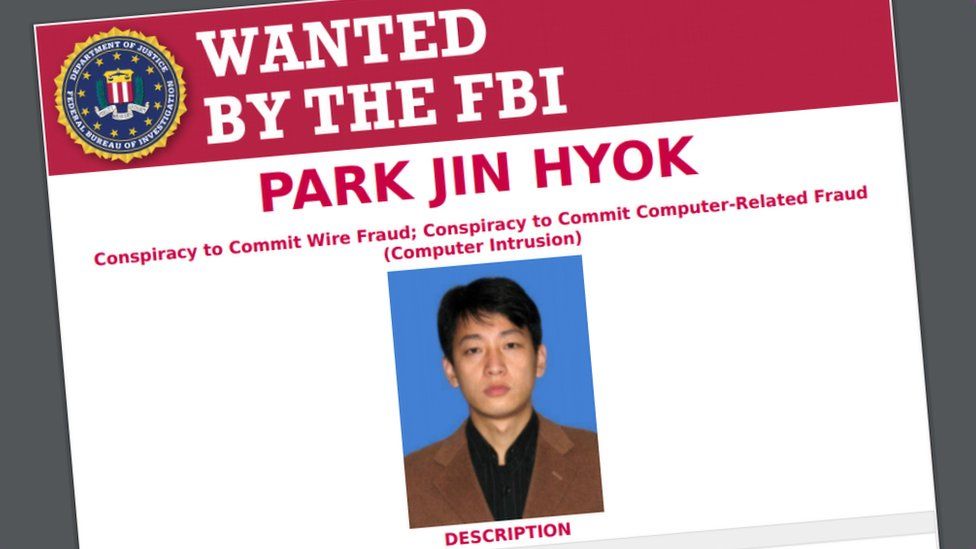 North Korea has said that a man charged with hacking Sony Pictures in 2014 is a "non-existent" individual and warned the US that its accusation could have a negative effect on relations between the two countries.
The US Justice Department charged Park Jin-hyok on 6 September with conspiring in "multiple destructive cyber-attacks around the world", including the the 2014 attack on Sony Pictures. It alleged he created the malicious software used to cripple the UK's National Health Service in 2017.
The US Treasury Department also added Mr Park to its list of sanctioned individuals.
He is allegedly linked to Lab 110, one of the North Korean government's hacking organisations, also known as the Lazarus Group. 
A commentary from North Korea's Ministry of Foreign Affairs, published by state news agency KCNA, called the sanctioning of Mr Park a "vicious slander and another smear campaign full of falsehood and fabrication designed to undermine" North Korea.
The KCNA commentary said Mr Park "is a non-existent entity, and furthermore, the act of cyber crimes mentioned by the Justice Department has nothing to do with us".
It said the US was "misleading the public opinion... by forcibly linking the non-existent 'offender' and his so-called cyber crimes with our state organs", and called the sanctioning of Korea Expo Joint Venture Company, thought to be a Lab 110 front organisation, a "farce" that was "kicked up" by the US Treasury.  
It went on to say that America should "seriously ponder over the negative consequences of circulating falsehoods", especially in the light of the North Korea-US joint statement following the Kim-Trump summit in June this year, which was meant to build mutual confidence between the two countries.
The North Korean Foreign Ministry also criticised America's own actions in cyberspace, saying Washington has a long record of questionable behaviour when it comes to hacking and espionage.
"The US is the chief culprit responsible for posing security threats in cyberspace, and the world vividly remembers the fact that the US was criticised for bugging the cell phones of its ally leaders and launching, without hesitation, cyber-attacks against its allies, let alone its enemies," it said.
"Our State has long made it as its policy to oppose all kinds of cyber-attacks and fully ensure cyber-security, and is taking all steps for its implementation," the KCNA statement continued. 
North Korea remains the prime suspect for a number of malicious acts, including the theft of $81m from a Bangladesh bank, as well as attacks on South Korean virtual currency exchanges.
It is thought that North Korea-linked hacking groups have been conducting these activities as a means to obtain hard currency for the nation, which has been hit by UN sanctions on its missile and nuclear programmes.
It is highly unlikely that Mr Park will face justice in a US court, with North Korea affairs expert Martyn Williams telling the BBC that the charges are a purely symbolic move, designed to "put meat on the bones" of accusations of North Korean cyber-crimes.
The anger towards the United States is curiously timed, as it comes soon after North Korea's Supreme Leader Kim Jong-un reportedly made encouraging statements about denuclearisation of the Korean peninsula.
According to South Korean officials arranging next week's summit meeting between the leaders of North and South Korea, Mr Kim said that he wanted denuclearisation and an end to hostile relations with the United States by the time President Trump's term in office ends in 2021.
However, the week's lag in criticising the US over the hacking allegations is not unusual for Pyongyang, which has just finished a programme of events celebrating the country's 70th anniversary.
Mixed messages such as this are part and parcel of North Korean diplomacy, where a furious outburst can be followed a few days later by conciliatory reports on an entirely different subject.
BBC Monitoring reports and analyses news from TV, radio, web and print media around the world. You can follow BBC Monitoring on Twitter and Facebook.