North and South Korea set up liaison office to 'talk 24/7'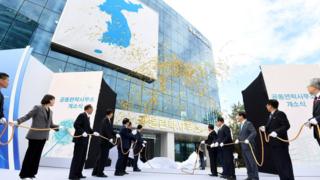 The two Koreas have opened a "liaison office" that will allow them to communicate on a regular basis for the first time since the Korean War.
The office, on the North's side of the militarised border, will be staffed by up to 20 people from each side.
The Koreas will be able to "directly discuss issues 24 hours, 365 days", Seoul's Unification Minister Cho Myoung-gyon said.
The opening comes ahead of a meeting between North and South leaders.
South Korean President Moon Jae-in and North Korean leader Kim Jong-un will meet in Pyongyang next week, in their third summit.
Since US President Donald Trump and Mr Kim met at a historic meeting in June, little progress has been made on North Korean denuclearisation. But Mr Kim recently requested another meeting with Mr Trump, who hailed his "very warm" letter.
The opening of the liaison office is a sign that even if talks between the North and the US are not moving forward, the two Koreas seem determined to develop closer ties, says BBC Seoul correspondent Laura Bicker.
Mr Moon, who has positioned himself as a mediator between Mr Trump and Mr Kim, will seek to inject new energy into stalled US-North Korea nuclear talks when he meets Mr Kim on Tuesday in Pyongyang, analysts say.
South Korea has said it hopes the liaison office will help in those efforts.
The two sides in the past communicated by fax or special phone lines, which would often be cut when relations soured.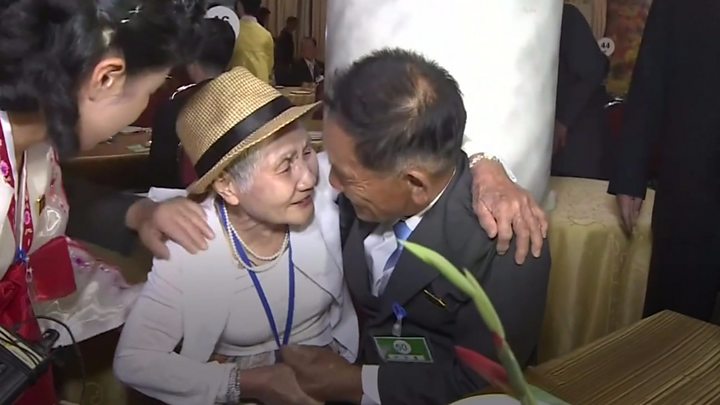 The liaison office is in Kaesong, where South Korean firms once employed tens of thousands North Korean workers in a jointly run industrial park that symbolised peaceful engagement.
South Korea suspended operations at the complex in 2016 after North Korea carried out its fourth nuclear test.
"The two sides are now able to take a large step toward peace, prosperity and unification of the Korean peninsula by quickly and frankly discussing issues arising from inter-Korean relations," North Korean representative Ri Son-gwon said at a ceremony to mark the office's opening.
The four-storey building will see the South Koreans placed on the second floor and the North Koreans on the fourth floor, Reuters reports.
The Korean War ended in 1953 with an armistice, not a peace treaty, and both sides remain technically at war.