Laundrette cat killers arrested in Malaysia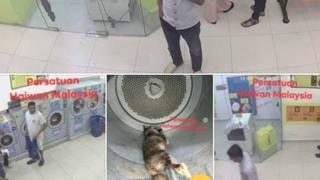 Police in Malaysia have arrested two men accused of killing a pregnant cat by putting it into a laundry dryer.
CCTV footage shows the men putting the cat inside a dryer in a laundrette, and then leaving the animal to die.
They have been charged with animal cruelty and if found guilty will face up to three years in prison, according to local media.
A third suspect also filmed by the surveillance camera remains at large. Police say they are searching for him.
The CCTV footage which was released by the police, shows the three men putting the cat into the dryer.
They then briefly leave the shop before returning to put coins into the machine and activate it.
The cat was later found dead by another customer.
The case had sparked an outcry on social media and animal protection groups released the pictures on Facebook to help with the search for the suspects.