Taliban attack on Afghan city of Ghazni rages for third day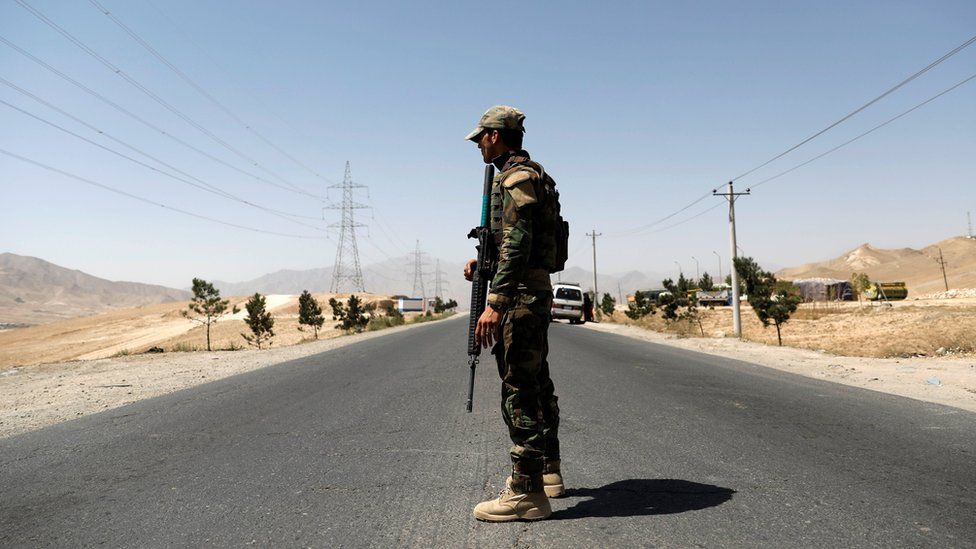 A Taliban attack on Ghazni has continued for a third day - with intense fighting and conflicting claims over who controls the Afghan city.
Mohammad Sharif Yaftali, the Afghan army's chief-of-staff, said the strategic city was not under threat of falling into the militants' hands.
But people inside Ghazni say it has been overrun, with very little still under government control.
The Taliban launched the assault in the early hours of Friday.
By late Friday morning, at least 16 people had been killed and many more injured. Local television station 1TV says the number of fatalities has risen to more than 100, but there is no official confirmation.
News of what exactly is happening in Ghazni, a provincial capital on the key road between Kabul and Kandahar, is difficult to get after the militants damaged a telecommunications tower.
The US military, which has conducted a series of air strikes in order to repel the Taliban fighters, played down the initial attack, telling reporters it was "another failed... attempt to seize terrain".
On Sunday, Lt Col Martin O'Donnell, US Forces Afghanistan spokesperson, said the Afghan army "continue to hold their ground and maintain control of all government centres".
His words were echoed by Gen Yafti, who told reporters: "Strategic locations and centres in the city are under the control of Afghan forces and the Taliban are hiding inside people's homes and shops and resisting."
But a very different picture emerges from inside the city.
Local lawmaker Chaman Shah Ehtemadi told Reuters news agency: "Only the governor's office, police headquarters and intelligence agency's compound are in the hands of the government and Taliban are pushing to take them."
A reporter for news agency AFP in Ghazni said the Taliban were not hiding at all, but roaming across the city, where they are in control of several police checkpoints and have been setting fire to government offices.
There are also reports the road outside the city has been mined, making it difficult for residents to escape.
Abdul Wakil, who had managed to flee, told Reuters: "There was burning and fire and dead bodies everywhere in the city."
The Tolo news agency said an Afghan military convoy on the way to Ghazni from Paktia had been ambushed about 80km from Ghazni city and had not been able to move further forward.
The attack comes as pressure continues on the Taliban to enter peace talks with the Afghan government.
Secret talks were recently held in Qatar between Taliban and US officials after an unprecedented three-day ceasefire during Eid celebrations in June that was largely respected by both sides.