Pakistan election: Rival parties reject result and call for new poll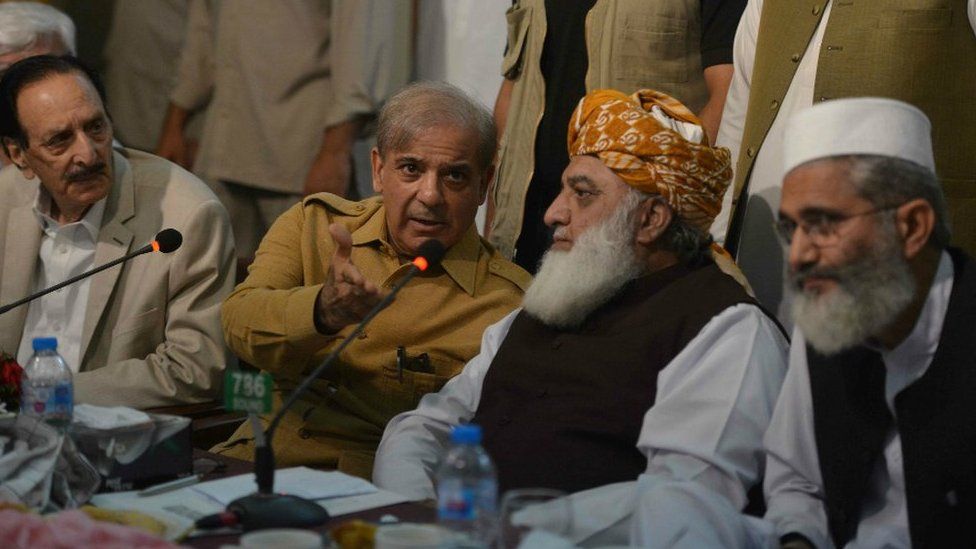 A group of Pakistani political parties has rejected the results of Wednesday's general election that looks poised to bring ex-cricketer Imran Khan to power.
Mr Khan's PTI party is ahead in the poll and has declared victory, but rival parties allege vote rigging.
After joint talks in Islamabad, one party leader said they would launch protests to demand fresh elections.
The rival parties include the former governing PML-N, which had earlier said it was ready to go into opposition.
Leader Shahbaz Sharif, brother of former PM Nawaz Sharif who is in jail on corruption charges, said the party had yet to decide whether or not to boycott parliament.
Sitting alongside him at a news conference, Maulana Fazalur Rehman, leader of the MMA party and spokesman for the group of rival parties, said: "We will run a movement for holding of elections again. There will be protests."
Leaders of more than a dozen parties had called the conference to form a joint strategy after the election.
What are the latest figures?
The election was seen as a contest between Mr Khan's Pakistan Tehreek-i-Insaf (PTI) party and Mr Sharif's Pakistan Muslim League-Nawaz (PML-N).
With most votes counted, Mr Khan's party is leading with 115 seats in the 272 National Assembly constituencies being contested, far ahead of the PML-N on 64.
In third place with 43 seats is the Pakistan Peoples Party (PPP) led by Bilawal Bhutto Zardari, son of assassinated two-time prime minister Benazir Bhutto. The PPP did not attend the meeting of rival parties on Friday.
A total of 137 seats is required for a majority and while Mr Khan is on course to become prime minister, he will have to form a coalition government.
Why the twists and turns?
Analysis by Anbarasan Ethirajan, South Asia Regional Editor
Pakistani politics is full of twists and turns. A day after Imran Khan declared victory in the elections, several parties are calling for a new poll. If the protests go ahead as promised, it could cause political instability.
Interestingly, the party of Nawaz Sharif appears undecided about boycotting parliament. Earlier, Mr Sharif's nephew said they were ready to sit on the opposition benches. But hours later his party joined the opposition alliance calling for a re-run.
Mr Sharif's PML-N is also desperately trying to form a regional government in Pakistan's most populous Punjab province. Though it has emerged as the single largest in the assembly elections there, it has failed to secure an outright majority. It appears that the party is keen to retain Punjab, its traditional stronghold, as it cannot form a government at the federal level.
But Mr Khan's PTI party, which is only a few seats behind the PML-N, is also in the fray to form a government in Punjab with the support of smaller parties and independents. The next few days are going to be busy for deal makers and the PML-N may not want to be left with nothing.
Mr Khan, 65, has faced accusations that his campaign benefited from the backing of Pakistan's powerful military, a claim both he and the army deny.
On Friday, a European Union monitoring team said the election campaign featured a "lack of equality".
"Although there were several legal provisions aimed at ensuring a level playing field, we have concluded that there was a lack of equality and opportunity," chief observer Michael Gahler told reporters.
On Friday, the US expressed concern about "flaws" in the campaign process.
"These included constraints placed on freedoms of expression and association during the campaign period that were at odds with Pakistani authorities' stated goal of a fully fair and transparent election," the US State Department said.
On Thursday Mr Khan - who captained Pakistan to a World Cup victory in 1992 - said the vote had been the "clearest, fairest election Pakistan has ever had".
What has Nawaz Sharif's party said?
Earlier on Friday, senior PML-N leader Hamza Shahbaz Sharif said the party had "reservations" over the way the election was held, but it would concede victory in order to "strengthen democracy in the country".
"We are going to sit on opposition benches, despite all the reservations," the former prime minister's nephew said.
"Even if democracy is flawed, its solution is more democracy, and then more democracy."
Nawaz Sharif, who is in prison after being convicted on corruption charges he disputes, said the election had been "stolen".