Laos hydroelectric power ambitions under scrutiny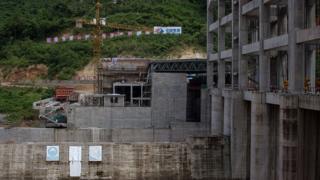 A devastating collapse at a dam has put the spotlight on Laos' energy ambitions.
Sitting on South East Asia's Mekong River, Laos has in recent years invested heavily in hydroelectric power.
The landlocked country sells much of this electricity abroad, which makes up about 30% of its exports.
The government plans to double current energy production by 2020 to become the "battery of South East Asia".
But groups warn of the project's impact on the environment and the nations the river supports.
The movement of water, fish and sediment downstream supports tens of millions of people along the Mekong, and efforts to constrain its flow could be disastrous.
The devastation caused by the collapse of the Xepian-Xe Nam Noy dam in Attapeu province shows the potential dangers in the Laotian government's plans.
What are the government's plans?
According to the Lao News Agency, in 2017 Laos had 46 hydroelectric power plants with 54 more planned or under construction.
By 2020, the country wants 100 operational plants with a capacity of 28,000 megawatts.
Power has become an important source of revenue for Laos.
The country signed a memorandum of understanding with Thailand in 1993 to supply 1,500 megawatts of power to its western neighbour.
According to reports, Laos now exports about two-thirds of all the hydropower it generates.
But while Laos has built dams on tributaries of the Mekong - like the World Bank-funded Nam Theun 2 dam, which opened in 2010 - it has faced criticism for its efforts to dam the river itself.
In 2012, the country halted work on its Xayaburi dam project to address concerns about the environmental impact of the works.
What are the environmental concerns?
Impeding the flow of the river could be disastrous for the lands downstream.
In 2014, countries in the lower Mekong - Cambodia, Laos, Myanmar, Thailand and Vietnam - produced about 15% of all the world's rice, according to The Economist magazine.
The region is also home to thousands of plant and animal species which could be directly affected by any dams on the river.
A report by the intergovernmental Mekong River Commission said hydropower projects in the river basin caused drops in rice production, fish numbers and soil fertility downstream, and were predicted to "reduce food security and potentially increase poverty levels".
What about construction safety?
Aside from the dangers, critics have also raised concerns about dam safety.
The Xepian-Xe Nam Noy dam is one of five planned on a tributary of the Mekong.
Due for completion in 2019, the dam broke and caused massive flooding, with hundreds missing and an unknown number dead.
Maureen Harris at the charity International Rivers said the collapse "raises extremely serious questions about dam planning and management".
The project is privately run, and she believes the many other projects now need to be put under "immediate scrutiny" in light of the disaster.