Hong Kong National Party: Move to ban pro-independence group 'concerns' UK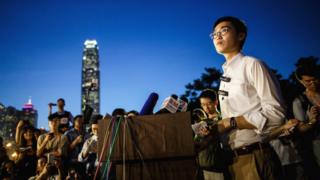 The UK has said it is "concerned" after police in Hong Kong requested a ban on a small political party that campaigns for the territory's independence.
Officials in Hong Kong say a request to outlaw the Hong Kong National Party is being considered on security grounds.
The UK, which handed sovereignty over Hong Kong to China in 1997, says it does not support its independence, but that its freedoms must be respected.
Residents of Hong Kong fear Beijing wants to water down its special status.
Under the so-called "one country, two systems" formula, Hong Kong enjoys a high degree of autonomy and certain rights and freedoms not available in mainland China.
It is the first time that the territory has considered banning a political party since it was returned to China.
"We note with concern... plans to prohibit the continued operation of the Hong Kong National Party," the UK Foreign Office said in a statement on Tuesday.
It said that individuals' rights to stand for election, free speech and freedom of association "are enshrined in the Basic Law of the Hong Kong Special Administrative Region and the Hong Kong Bill of Rights".
"Hong Kong's high degree of autonomy, and its rights and freedoms, are central to its way of life, and it is important they are fully respected," the statement added.
Hong Kong's Secretary for Security, John Lee, earlier said that a police request to ban the Hong Kong National Party was being considered on grounds that the group could pose a threat to national security.
"In Hong Kong we have freedom of association, but that right is not without restriction," he told reporters on Tuesday.
Mr Lee, who did not elaborate on the details of the proposed ban, said that the party's leader, Andy Chan, had been given 21 days to make a case against the police request.
He added that if it is banned, people who attend meetings or contribute funds to the group will face fines and up to two years in prison.
Meanwhile, high-profile democracy activist Joshua Wong accused the government of following "Beijing's hardline path" and trying to break up any group advocating a high degree of autonomy for the city.
In February, Hong Kong's top court threw out prison terms against Mr Wong and two other leaders of the 2014 pro-democracy "Umbrella" protests over charges of unlawful assembly.