Thailand tourist boat sinking: At least 33 confirmed dead off Phuket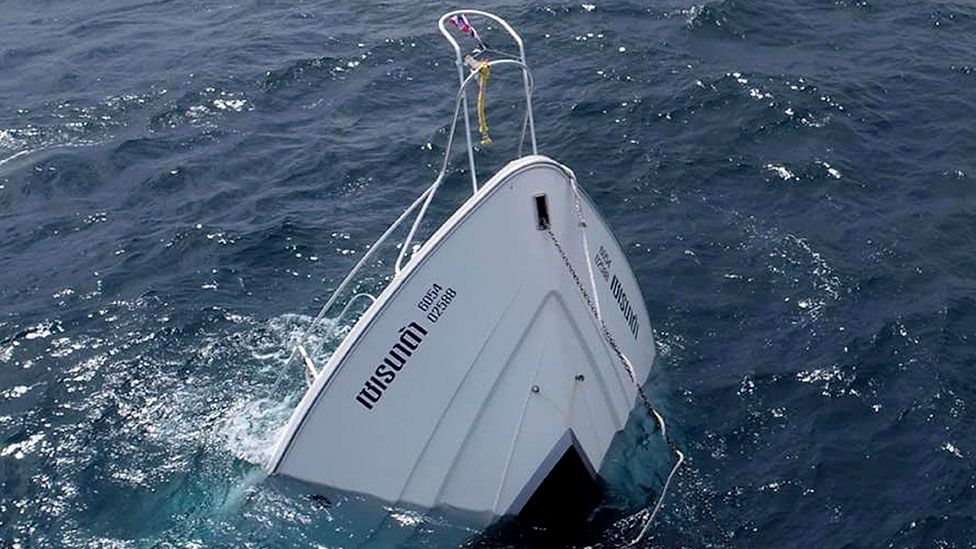 At least 33 people are known to have died after a tourist boat carrying mostly Chinese passengers capsized off the Thai holiday island of Phuket.
The news came as Thai authorities suspended their search for missing passengers for a second night.
The Phoenix - which had 105 people on board - went down in bad weather on Thursday evening.
Phuket provincial governor Noraphat Plodthong said 23 people were still unaccounted for, with 49 rescued.
On Friday, Mr Noraphat told reporters the rescue operation had to be paused until Saturday morning because of strong winds and rough seas, which were making it too dangerous for divers to continue their work.
What happened to the boat?
The Phoenix was reportedly carrying 93 passengers, 11 crew members and an individual tour guide when it got caught in bad weather off the coast of Phuket on Thursday.
Conditions were said to have created waves up to 5m (16ft) high, causing the Phoenix to overturn and sink.
A total of 48 passengers were rescued by a fishing trawler on Thursday, while another female survivor was pulled from the water several miles from the boat, along with several bodies, according to AFP news agency.
The woman was rushed to hospital, but her condition is unknown. A total of 37 people have received treatment in hospital.
Divers discovered several bodies while searching inside the hull of the submerged vessel on Friday, according to the Thai Navy. Helicopters also joined the search for survivors.
The Phoenix overturned in the Andaman Sea off the coast of Koh He, which is an islet known for its coral formations and has become popular among tourists visiting Phuket.
What have survivors said?
Wu Jun, 28, told AFP that he was celebrating his honeymoon with his wife Long Haining on the Phoenix when the boat started to tilt in the water.
"The skies were clear when we went out, we had no idea the weather could change so fast," he said, from the hospital where his wife is being treated.
China's foreign ministry spokesman, Lu Kang, said on Friday that his country was sending a "taskforce" to Thailand to help the authorities deal with the incident.
"We hope that the Thai side can continue their best efforts and... do their best to treat the injured, comfort relatives and deal with other follow-up measures," he said.
Why were tourists out in rough seas?
The Phoenix was among several boats that appeared to have ignored a warning in place since Wednesday not to take tourists on daytrips to the islands off Phuket because of "strong winds and storms", officials said.
An investigation has been ordered into why a number of boats went out despite the severe weather warnings.
In a separate incident, 39 people were saved when another vessel, carrying mostly European passengers, overturned at about the same time.
Mr Noraphat said that a further 10 smaller boats were also left stranded at sea on Thursday.
Thailand is bracing for the arrival of its monsoon season.