Thailand cave rescue: How can rescuers free the boys?
By Toby Luckhurst
BBC News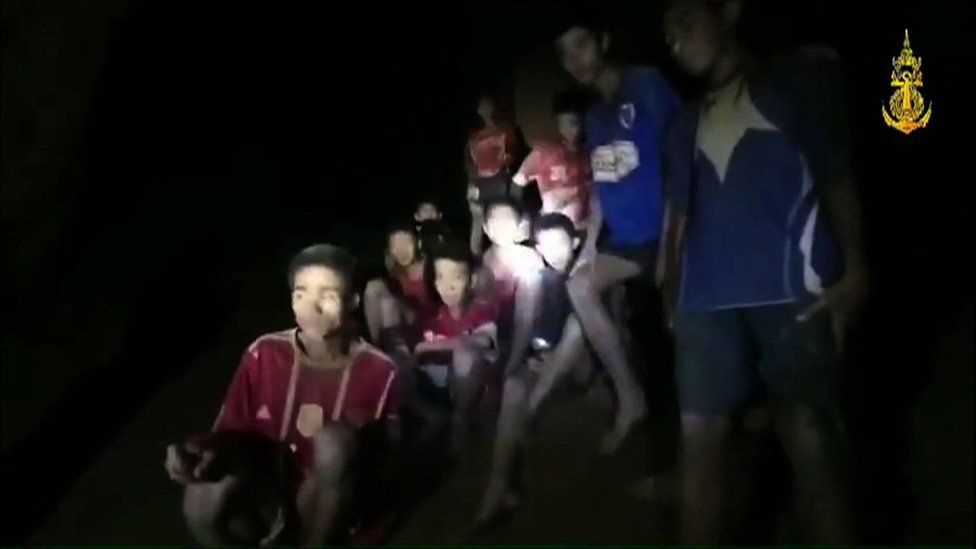 After nine days trapped in darkness in a cave in Thailand, 12 boys and their football coach have been found alive.
Two British divers found all 13 safe in a cavern in the Tham Luang cave system in the northern Chiang Rai province.
But the issue now is to get them all out of the cave with rising waters and mud hindering access and the trapped group's health a major concern.
So what are the options to free the youngsters and their coach?
"The option to bring them out by diving is the quickest but it's also the most dangerous," Anmar Mirza, national co-ordinator of the US Cave Rescue Commission, told the BBC.
Thai navy divers, three top British cave divers and US military personnel all attempted to find the boys.
In total, more than 1,000 people have been involved in the operation, including teams from China, Myanmar, Laos and Australia.
These skilled professional divers still needed several hours to get to the trapped group from the entrance, through tiny, debris-strewn passages and aided by round-the-clock water pumping efforts to try to clear the flood waters. And these boys are not trained divers.
Edd Sorenson, regional co-ordinator in Florida for the International Underwater Cave Rescue and Recovery Organisation, told the BBC the diving option is "extremely dangerous and hazardous", saying he would consider it "an absolute last resort".
"Having somebody in zero visibility that's not familiar with... that kind of extreme conditions, it's real easy and very likely that they would panic, and either kill themselves and/ or the rescuers."
Authorities have tried to drill holes in the cave walls to help drain some of the flood water - although the thick rock has hampered efforts.
There have also been suggestions that drilling could be another way to get to the boys, and to help them out.
But to even begin the process, new roads would need to be built up above the caves to accommodate the heavy drilling equipment needed to break through the rock.
On top of that, Mr Mirza explains you would need to have conducted a survey of the caves and to know them back to front before you could start drilling - otherwise there would be little chance of digging a hole in the correct place for the boys and their coach.
"It sounds easy but it's actually very difficult," he says. "It's a needle in a haystack problem."
In a press conference, Chiang Rai governor Narongsak Osottanakorn said they would continue to drain water out of the cave while sending doctors and nurses in to check the health of the boys and their coach.
"If the doctors say their physical condition is strong enough to be moved, they will take them out from the cave," he said.
But Mr Mirza says their health is a serious concern. "After nine days without food, you have to watch their food intake," he says.
People deprived of food can suffer ill-health effects if not properly reintroduced to food - sometimes as severe as heart failure or comas.
Mr Mirza says if the group are on high ground, safe from flooding, and can be resupplied there that might be a good option for now. Their ill-health "significantly compromises the rescue effort," he says.
Mr Sorenson agrees. "I think they would be better off bringing in food, water, filtration systems, oxygen if the air space needs it and requires it", he says.
"They have lights and hope now, so I think waiting it out, as long as they can get supplies in there to make them comfortable and warm and fed and hydrated."