Japan unveils Hello Kitty-themed bullet train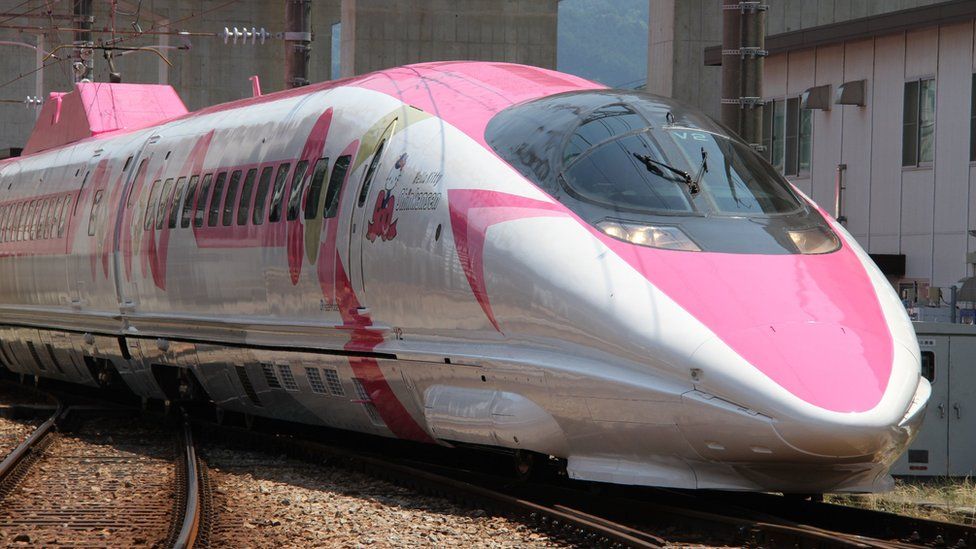 It is enough to wake the tired eyes of the groggiest commuter. A striking white and pink bullet train themed around the Japanese cartoon character and marketing phenomenon Hello Kitty.
The bespoke train will begin a three-month run between the western cities of Osaka and Fukuoka on Saturday.
It was unveiled by the West Japan Railway firm which hopes the use of a famous local export will boost tourism.
Hello Kitty branding features on the windows, seat covers, and flooring.
In line with the firm's aim to attract tourists, the first carriage will have no seats but will offer passengers the chance to buy regional goods and foods from western Japan.
Another carriage will have a large Hello Kitty doll - adorned in a unique crew uniform - where fans can pose for photos.
The character was created by Yuko Shimizu in 1974 and since then has spread around the world.
It can be found on everything from key chains to motor oil, aeroplanes to toilet paper and the brand is now estimated to be worth billions of dollars.