Baghdad mall sorry for turning away orphans at Eid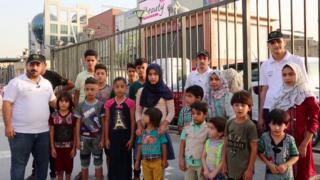 Eid al-Fitr is meant to be a happy time when everyone comes together to share food and festivities at the end of the holy fasting month of Ramadan.
But when 20 war orphans tried to enter a luxury shopping mall in Baghdad, Iraq, to visit a restaurant booked for them by a charity, they were turned away.
A video of the children standing outside the gates of Al Mansour mall on Saturday was widely shared on Iraqi social media by users threatening a boycott.
The shopping centre has since apologised claiming it was a misunderstanding by a member of staff, and pledged to fund the care of 50 orphans for one year.
The children, who are aged between seven and 15, had arrived with volunteers from orphans charity Ruhmaa Benahm at the Al Mansour mall, which is one of the largest in Baghdad and cost $35 (£26.5m) million to build in 2013.
The charity had booked a restaurant inside after it received a donation from an individual to treat the orphans to an Eid outing.
You might also be interested in:
But instead of enjoying the special day, the group stood outside in the blazing summer sun after a security guard refused to allow them in.
A volunteer called Sheriff filmed a video explaining what had happened, which was quickly shared by social media users angered by the children's treatment.
An Arabic hashtag which translates to #Boycott_AlMansour_Mall was used around 12,000 times and the video was watched more than 500,000 times.
Many Iraqis said that the incident showed a "lack of humanity".
Some speculated about why the children were denied entry, suggesting that the children's clothes and appearances were not seen as "appropriate" for a chic mall like Al Mansour.
"How would you feel if the tables were turned and you were denied entry because of how you dress?" one user Yahya asked the mall's manager.
However, others ruled out that the children's dress and social standing was unrelated, instead arguing that the mall was too crowded.
One user wrote that if it was not for these orphans' fathers, who are believed to have been soldiers killed in the war against Islamic State, the mall would not exist.
Some also expressed their anger by posting negative reviews on the mall's Facebook page, causing its 5-star rating to decline to 1-star. The option to rate Al Mansour has since been removed.
On Sunday the mall's manager Saad Al Kurdi posted a video apologising about the incident, explaining that it was a misunderstanding. He said that as part of the pledge to care for 50 orphans, the centre will pay for food, drink, clothes and recreation in the mall.
All being well, the children can now look forward to a happier Eid in 2019.
With contributions by Georgina Rannard, BBC UGC & Social News