Afghanistan's march for peace from Lashkar Gah to Kabul: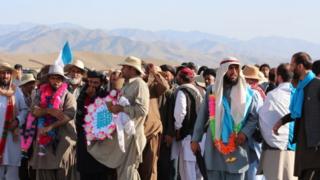 Over the past four weeks, a small but growing band of ordinary Afghans have been marching from Helmand to Kabul to demand an end to 40 years of war and violence. It's a protest unlike any other and in a country short on hope, it's captured the imagination of many Afghans. BBC Kabul's Karim Haidari went to meet them.
In Wardak province, 50 kilometres (31 miles) south west of Kabul, an extraordinary procession is making its way down a dusty road in the countryside.
Around 80 men, young and old, wearing turbans and hats to protect them from the burning sun, are greeted with garlands and cheers by local people.
Carpets have been laid out on the ground to offer them a chance to rest and break their Ramadan fast.
After another long day's marching, the cool wind that has picked up offers a welcome respite from the searing heat of the Afghan summer.
These are the Helmand peace marchers - initially a group of just seven men who began their journey back in March in the regional capital Lashkar Gah.
The catalyst for the march
The catalyst for their protest was a devastating suicide attack on an open-air wrestling match in the town over the Afghan new year holiday, which left at least 13 people dead and many more injured.
For many people in Lashkar Gah, the attack was the final straw.
A small group set up a peace camp and then declared a hunger strike, demanding that the government and Taliban call a ceasefire. After the health of several protesters deteriorated, religious scholars intervened and convinced them to end the hunger strike.
But they continued their sit-in.
After several weeks and no result, they decided to start walking to take their message of peace to the capital Kabul around 600 kilometres (363 miles) away.
It's a journey that has taken them along endless asphalt roads, through poppy fields and deserts, in temperatures of over 40C and with no food or drink during daylight hours for Ramadan.
The marchers are led by a young medical student called Mohammad Iqbal Khyber who tirelessly addresses crowds along the way.
Softly but firmly he reiterates the same demands: "We want a ceasefire, talks, inclusive government, and a timetable for foreign forces to leave the country".
It's a message that clearly resonates with people in a country exhausted and desperate after so many years of violence.
Determined to reach Kabul
Along the way, the marchers have been joined by dozens of people also keen to give their voice to the call for peace.
In every town and village they've passed, local people have offered food, first aid and a place to stay.
For many it's been an exhausting journey, but Mohammad says it's been worth it.
"A disabled man joined us," he says. "We have old people with bad knees, diabetes and poor kidneys. But we keep going because all this is nothing in contrast to the price people are paying because of war across the country."
He introduces me to Lal Mohammad Zaer, a young man who has lost everything because of the ongoing violence. First his home, then his job, and finally his sight in a mine blast. Yet he's determined to reach Kabul.
The start of a new peace effort?
When they get to the capital, the marchers say they have no plans to meet either the current or past presidents.
They don't want to be associated with any political party or movement but they're happy to back anyone willing to deliver on their calls for peace.
"Whoever agrees to our demands first will win our support," one marcher says.
Since the marchers began their journey, the government and Taliban have announced ceasefires for the Eid holiday.
It's not clear if this could be the start of a new effort to bring peace to Afghanistan.
Mohammad Iqbal Khyber isn't making any predictions but he says he's sure the Taliban are as tired of war as civilians.
"The money that's been spent on this war could feed us all," he says. "Everyone wants to see an end to the fighting."
You may also like: