Kabul blast: At least 13 killed in Afghan ministry attack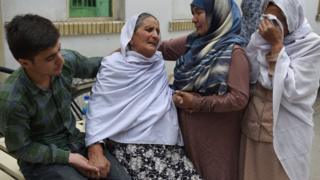 At least 13 people have been killed and 31 wounded in a suicide bombing at a government ministry in Afghanistan.
Women and children were among the casualties, according to an official.
Workers at the Department of Rural Rehabilitation and Development in Kabul had left early for Ramadan and were waiting for a bus when the blast hit.
The Islamic State group (IS) said it was behind the attack, which came just days after the Taliban agreed to its first-ever truce with the government.
The ceasefire is due to run for three days during the Muslim festival of Eid al-Fitr this week.
However, the government will continue its operations against other groups, such as IS, during the ceasefire.
Separately on Monday, at least 10 people were injured in an attack on a provincial education department building in the eastern city of Jalalabad, although the incident has not so far been claimed by any group.
Both IS and the Taliban have carried out deadly attacks in Kabul in recent months.
More than 30 people were killed in a blast at a Shia shrine in the capital in March, while almost 70 were killed in a bombing at a voter registration centre the following month. Both attacks were claimed by IS.
A BBC study from January found the Taliban were openly active in 70% of Afghanistan and now control or threaten more territory than before foreign troops left.