Trump-Kim summit: Words that could anger North Korea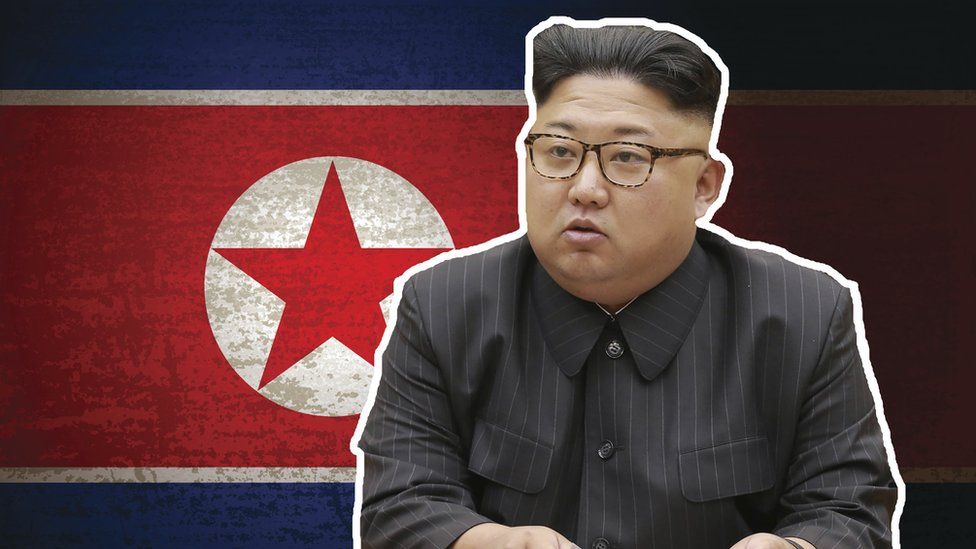 When US President Donald Trump was trading insults with North Korean leader Kim Jong-un just a few months ago, many wondered whether it was fuelling the prospect of all-out war.
But despite barbs ranging from "little rocket man" to "mentally deranged US dotard", the pair agreed to hold talks in Singapore on 12 June. Some recent angry words have highlighted how precarious the situation is, and Mr Trump now says the talks may not happen on time.
Assuming they do go ahead, how can Mr Trump avoid riling Mr Kim and resurrecting the insults of the past? These are some of the subjects where he should tread carefully.
It's fair to say the moustachioed US national security adviser isn't in Mr Kim's good books, having previously said it would be "perfectly legitimate" to carry out a pre-emptive strike on North Korea.
He has further angered Pyongyang with his recent comments about nuclear disarmament.
But the North didn't take to the suggestion and threatened to pull out of the summit altogether.
"We do not hide our feeling of repugnance towards [Bolton]," the country's vice-foreign minister Kim Kye-gwan said in a statement.
Mr Trump then rowed back on the comparison and said the US was not pursuing the "Libya model".
"If we make a deal, I think Kim Jong-un is going to be very, very happy," he said.
So why did Mr Bolton's comments provoke such anger from North Korea? It all comes down to what happened to Libya's leader...
The deal that saw Libya give up its weapons was struck in exchange for economic aid and better relations with the US.
But it's what happened next that makes the comparison particularly worrying for the North.
"It is essentially a manifestation of awfully sinister moves to impose on our dignified state the destiny of Libya," Kim Kye-gwan said in his statement.
It is worth noting that Kim Kye-gwan is highly respected in North Korea and so his clear anger at Mr Bolton's comments is likely to be shared by the country's leadership.
But Mr Kim won't have been entirely reassured by the president, who hinted that the North Korean leader could be deposed if he refused to make a deal.
Questionable comparisons aside, the reality of what North Korea will do with its nuclear weapons could well be a flashpoint in the summit.
This is because denuclearisation means something very different to both countries. Reaching an agreed definition and bridging this linguistic gap could prove difficult.
On the one hand, the North views the term as covering the whole of the Korean Peninsula.
This means any efforts they make to reduce their weapons stock would need to be met with a similar response in South Korea. This could mean reducing the number of US troops in the country.
But the US definition of denuclearisation is more one-sided.
It wants North Korea to give up its nuclear weapons over the next few years in exchange for economic rewards. It has demanded "comprehensive, verifiable and irreversible" nuclear disarmament.
The North has a history of breaking agreements like this, so whether it will actually comply with US demands is far from certain.
This is the name of the latest joint military drills between the US and South Korea, a point of constant tension for Pyongyang.
The exercises happen on South Korean soil and have long angered the North, which views them as a provocation and preparation for a future invasion.
But the US and South Korea have always insisted the drills are purely for defence purposes, and are necessary to strengthen their readiness in case of an external attack.
All of this means the exercises are likely to be a sensitive subject when it comes to next month's summit.
One issue that may be raised is the Japanese citizens who were kidnapped by North Korea in the 1970s and 1980s.
While South Koreans have also been abducted, Japan has been vocal recently in calling for its citizens to be freed.
The country's Prime Minister, Shinzo Abe, has urged the US to help bring about their release and Mr Trump has assured him that the US will try to bring the abductees home.
North Korea has admitted to kidnapping 13 Japanese citizens to help train its spies in Japanese language and customs but the real figure could be much higher.
Pyongyang's reluctance to discuss the issue is clear. State news agency KCNA said the issue had been "resolved" and accused Japan of "hyping" the issue in order to harm the denuclearisation process.
North Korea is often riled by international criticism, including anything it views as a slight on how the country is perceived to be run.
Its official KCNA news agency frequently quotes officials who accuse critics of "insulting the dignity of the DPRK".
The language used by the US will also be an important factor in ensuring the summit goes smoothly.
"It's good to refer to the country as the DPRK not North Korea," says travel expert James Finnerty. "Their point of view is that their government is the rightful controller of the entire peninsula."
Kim Jong-un's half-brother died last year at Kuala Lumpur airport after highly toxic VX nerve agent was rubbed on his face.
He had been largely estranged from his family and had spoken out in the past against his family's dynastic control of North Korea.
Pyongyang has denied any involvement in the killing, but four men - believed to be North Koreans who fled Malaysia on the day of the murder - are among those charged.
The subject is likely to be a sensitive one because the US believes Kim Jong-nam was assassinated by the North.
"We cannot afford to tolerate a North Korean WMD [weapons of mass destruction] program of any kind," the state department said of his death.