100 Women: Women switch gender profiles on China taxi app after murder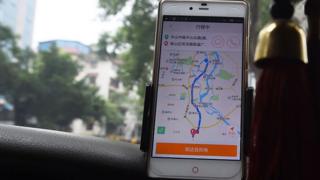 Women are changing their profile pictures and gender listing on the Chinese ride-hailing app Didi Chuxing, following the murder of a female passenger earlier this month.
The 21-year-old woman is believed to have been killed by her taxi driver.
She had been using the Didi Chuxing carpooling service known as Hitch.
Hitch drivers can see each passenger's occupation, profile picture and gender, as well as comments left by previous drivers, before they decide to accept a ride request.
China's biggest ride-sharing company has now said it will disable features such as profile pictures, ratings and public tags from its carpooling service.
Profile pictures will be replaced with generic images.
It comes after revelations drivers have been reviewing female users based on their appearance.
"Goddess", "natural beauty" and "long-legged" are some of the descriptions drivers have been posting about female passengers, according to Chinese financial magazine Caixin.
An advert for the Hitch service, still visible on their verified Weibo account on 14 May, featured a male driver holding a sign reading, "You have a short skirt, I have warm air... Give her a free ride, I'm willing," Reuters reports.
Didi Chuxing suspended Hitch temporarily after the body of the woman was found with more than 20 stab wounds in the central Chinese city of Zhengzhou.
The body of the 27-year-old driver was later found in a river in Zhengzhou. Didi Chuxing said the man had stolen his father's profile to use the app.
This is not the first time the company has dealt with the murder of a customer.
In 2016 a woman in Shenzhen was robbed and murdered by man who had fraudulently signed up to work as a Didi Chuxing driver, according to South China Morning Post.
Women are sharing their updated profiles on a popular Chinese microblog Sina Weibo, as an act of protest.
Some say they also fear for their safety.
The new profile images range from humorous to political and include stock photographs, male relatives and even fictional characters from TV and film.
Female Sina Weibo users say they are changing their taxi app profile to suggest they are a man, while others say their parents have told them to change their account details.
"I'm calling all my female friends to change their profile pictures," says user ChaoJun77.
"I want to protect myself. After the tragedy, I'm scared," Xu Yanan, a student at Beijing's Tsinghua University, has told Reuters.
"My friends' father bought his daughter pepper spray online," says Beautiful Girl.
Others said changing profile details was a pointless exercise.
"Even if you change your gender to male on the app, once you get in the car the driver will see you," says TuanziHibiku.
The case has reignited concerns of customer safety in China.
On 11 May China's Ministry of Transport announced plans to enhance regulation of the car-hailing industry, while Chinese state broadcaster CCTV issued advice, telling female passengers not to "chat too much" with drivers, or travel to remote or unfamiliar places for their own safety.
Some women have complained online, saying the onus should not be on them to monitor their own behaviour.
Additional reporting by Chen Yan
What is 100 Women?
BBC 100 Women names 100 influential and inspirational women around the world every year. We create documentaries, features and interviews about their lives, giving more space for stories that put women at the centre.
Follow BBC 100 Women on Instagram and Facebook and join the conversation.