Phnom Penh Post: Firing and resignations after sale of Cambodian daily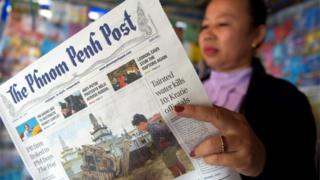 Several senior journalists have left Cambodia's Phnom Penh Post, saying its new owners fired the editor in chief and demanded a story be removed.
The paper, seen as Cambodia's last independent daily, was sold to a Malaysian businessman at the weekend, raising concerns about its future.
New owner Sivakumar Ganapthy is also director of a PR firm which has done work for the Cambodian government.
The sale comes amid an increasing crackdown on independent media outlets.
Bill Clough, Australian former owner of the Phnom Penh Post, confirmed the sale of the paper on Saturday, blaming falling advertising revenues.
He identified the buyer as "well respected newspaper man" Sivakumar G, and said an outstanding tax bill had been cleared as part of the deal.
In a statement, the owner said he would uphold the Post's legacy and editorial independence.
'I will not be returning to work'
But on Monday evening, journalists working on the newspaper said the editor-in-chief Kay Kimsong had been fired. Others have resigned or been sacked.
The reason was not immediately clear, but several journalists said they had been ordered to take down an article reporting on the paper's sale.
The article, published on Sunday, included several quotes raising concerns about the new ownership, including that Sivakumar Ganapathy's agency, Asia PR, listed "Cambodia and Hun Sen's entry into the Government seat" as one of its former clients.
Among those resigning was managing editor Stuart White.
"I resigned this morning because I was asked to take down The Post's story on its sale," he said in a statement, emailed to the BBC.
"I wasn't given a reason, and was only informed that it was a direct order from new management. At that point, I felt as though I couldn't continue working at the paper.
"The Post has always been fiercely protective of its independence, and I felt that the order was a sign that that may be in jeopardy going forward. I can't comment on the new management's overall editorial direction, but that decision was ultimately unacceptable to me."
There has been growing concern for some time about the state of press freedom in Cambodia.
Reporters Without Borders has accused the government of launching "an all-out war on independent media outlets with the aim of ensuring victory in the general elections scheduled for July".
The Cambodia Daily was last year forced to close after it received a $6.3m (£4.7m) tax bill that it could not pay.
Other independent media outlets have also reportedly been accused of not complying with tax obligations. US government-funded Radio Free Asia recently closed its bureau in Phnom Penh citing a "relentless crackdown" on independent media.
The outlets had often reported on topics such as corruption and human rights abuses that embarrassed the government of Hun Sen, who has been prime minister for 33 years.
Huy Vannak, undersecretary of state at the Interior Ministry, had earlier told Reuters the sale of the Post was "normal business" and that it "remains a newspaper".
But Phil Robertson, deputy Asia director for Human Rights Watch, said there was "no plausible business rationale for an obscure Malaysian public relations firm to buy this newspaper, except to seek control for elite Cambodian friends".
"This looks like the beginning of the end for the Phnom Penh Post as an independent and critical newspaper."
A former Phnom Penh Post editor-in-chief Chad Williams had said the fact the the paper's tax bill was settled at the same time as the sale "suggests the Cambodian government may have used the threat of a shutdown to essentially coerce the sale".