Trump 'will walk out' if North Korea talks not fruitful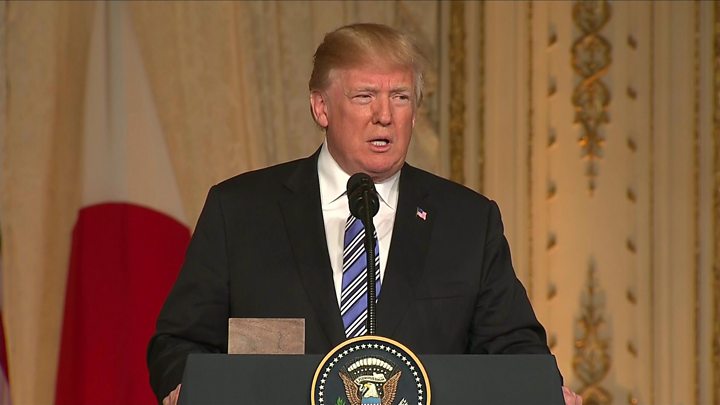 US President Donald Trump says that if his planned talks with North Korean leader Kim Jong-un are not fruitful he will "walk out".
At a joint news conference, he and Japanese PM Shinzo Abe said maximum pressure must be maintained on North Korea over nuclear disarmament.
Mr Abe is at the president's Mar-a-Lago resort in Florida for talks.
Earlier, Mr Trump confirmed that CIA Director Mike Pompeo had made a secret trip to North Korea to meet Mr Kim.
He said Mr Pompeo had forged a "good relationship" with Mr Kim - whom the US president was last year calling "little rocket man" - and that the meeting had gone "very smoothly".
The visit marked the highest-level contact between the US and North Korea since 2000.
Mr Trump is expected to hold a summit with Mr Kim by June. Details, including a location, are still being worked out.
Meanwhile, South Korean president Moon Jae-in is set to meet Mr Kim next week.
Speaking on Thursday, Mr Moon said North Korea had said it was ready for "complete denuclearisation", and called for "bold imagination and creative solutions" to ensure the Koreas summit and the Trump-Kim summit would succeed.
What was said about the Trump-Kim summit?
President Trump said at the joint news conference that if he did not think the meeting would be successful he would not go, and if the meeting went ahead but was not productive, he would walk out.
"Our campaign of maximum pressure will continue until North Korea denuclearises," he added.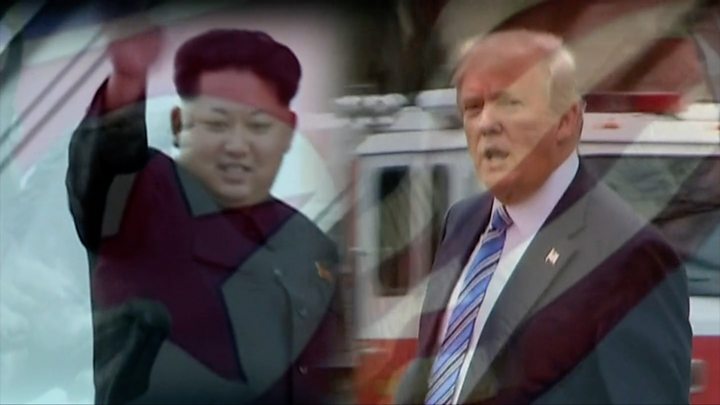 "As I've said before, there is a bright path available to North Korea when it achieves denuclearisation in a complete and verifiable and irreversible way. It would be a great day for them, it would be a great day for the world."
What else was discussed?
On trade, Mr Trump and Mr Abe agreed to start talks on "free, fair and reciprocal trade deals".
Mr Trump said the US remained opposed to rejoining the Trans Pacific Partnership unless Japan and other parties to the trade pact offered "a deal that I can't refuse".
The US president did not exempt Japan from punitive steel and aluminium tariffs, as he has done for other US allies.
Turning to North Korea, Mr Abe said he had urged President Trump to help bring about the release of Japanese citizens kidnapped by North Korea in the 1970s and 1980s.
North Korea abductions
North Korea has admitted to abducting 13 Japanese citizens in the 1970s and 1980s to train its spies in Japanese language and customs. Japan believes the real figure is much higher.
Some of the abductees were eventually returned to Japan. Pyongyang says the others are dead - something Japan does not accept.
The youngest abductee was Megumi Yokota, who was snatched by agents when she was 13.
South Korea says about 500 of its citizens - most of them fishermen - have been abducted by North Korea since the 1950-1953 Korean War. Those kidnapped were reportedly used for propaganda activities or intelligence gathering.
South Korean film director Shin Sang-ok and actress Choe Eun-hui were abducted in the 1970s and forced to make films for Pyongyang, until they escaped.
Actress kidnapped by North Korea dies
Abducted S Korean back from North
North Korea abductee meeting praised
Three US citizens are also being held in North Korea.
Mr Trump said the US would "work very hard" to try to bring the Japanese abductees home.
"We are likewise fighting very diligently to get the three American citizens back," Mr Trump added.
"I think there's a good chance of doing it. We're having very good dialogue."
What do we know about Mike Pompeo's meeting?
The secret trip took place after Mr Pompeo was nominated by President Trump to replace Rex Tillerson as secretary of state.
No details are known about the talks other than that they were to prepare for the forthcoming Trump-Kim summit.
Mr Pompeo is expected to be confirmed as the top US diplomat by the Republican-controlled Senate in the coming weeks, although Democratic opposition to the conservative's candidacy is strong.
Senator Robert Menendez, the top Democrat on the Foreign Relations Committee, said he did not think Mr Pompeo's "past sentiments" reflected American values.
The hawkish CIA chief's opposition to same-sex marriage has come under scrutiny and he has also made controversial remarks about Islam.
When and where might a Trump-Kim summit take place?
Mr Trump surprised the international community last month by accepting Pyongyang's suggestion for direct talks. It would be unprecedented for a sitting US president to meet a North Korean leader.
He has said the summit will take place either in early June or "a little before that" and that several sites are under consideration.
Experts have speculated that a location for talks could be the Demilitarised Zone between North and South Korea, another Asian country, or a neutral European country.
North Korea has been isolated for decades because of its human rights abuses and pursuit of nuclear weapons, in defiance of international laws and UN sanctions.
It has carried out six nuclear tests, and has missiles that it says could reach the US.
But South Korea's hosting of the Winter Olympics in February gave an unexpected window for diplomacy, and in the weeks since there have been a flurry of visits to the North from China, South Korea and now the US.