Pakistan's Ziarat: An ancient juniper forest and its living fossils
The juniper forests at Ziarat in the Pakistani province of Balochistan are some of the largest - and oldest - in the world.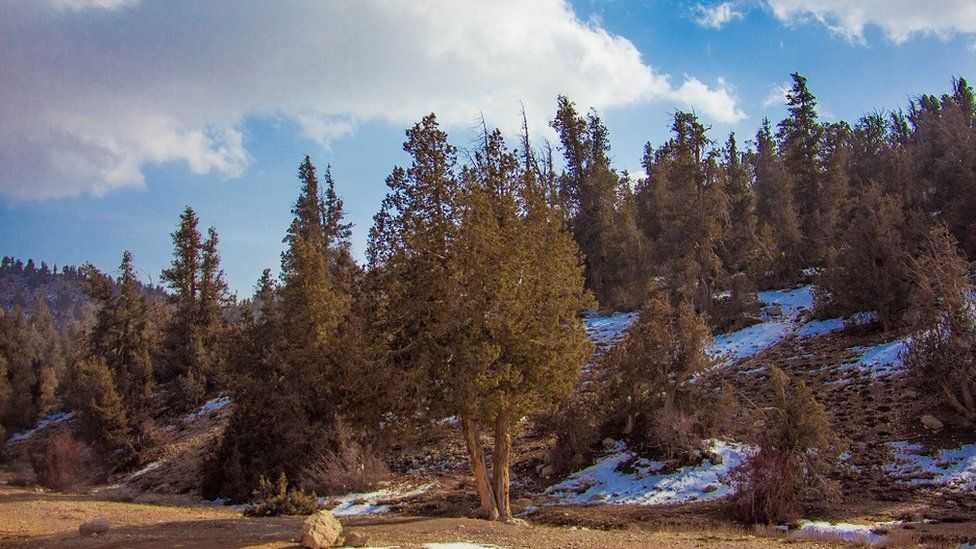 According to a report submitted in April 2016 at Unesco by Pakistan's Directorate General of Archaeology, the Ziarat forests are spread over nearly 110,000 hectares. No dendrological study has been conducted but mature trees are often thousands of years old, earning them the title of "living fossils".
The forest lies in mountains ranging from more than 1,000m (3,000 feet) above sea level to nearly 3,500 metres above sea level. The remarkable longevity of the trees allows research into past weather conditions and makes the species significant for climate change and ecological studies.
Pakistan declared it a Biosphere Reserve in 2013.
It's also a habitat for black bears and wolves, as well as urials, a type of sheep, and the Sulaiman markhor, a large species of wild goat.
Juniper berries are enjoyed for their flavour in cooking and their oil has several uses.
The forest in Ziarat is a popular tourist spot, some 120km (75 miles) east of the provincial capital Quetta.
It gained a reputation as a health resort after Pakistan's founder Mohammad Ali Jinnah stayed there in the summer of 1948, in the last days of his life.
Locals looking for firewood keep felling trees. There is no other source of fuel.
Piped gas would be a cheaper option but the gas supply was never extended to Ziarat. While Balochistan produces the bulk of Pakistan's natural gas, it is the most neglected when it comes to piped supplies.
There has been some illegal commercial felling but the damage is not extensive, thanks to awareness campaigns run by NGOs.
Forest officials say decreasing tree cover is partly due to the time a sapling takes to grow.
Only 10% of new saplings survive. Last year 20,000 saplings were planted but only 2,000 will go on to become mature trees.
Reporting by Shumaila Jaffrey. Additional reporting by M Ilyas Khan and Faran Rafi.