China hits back with tariffs on US imports worth $3bn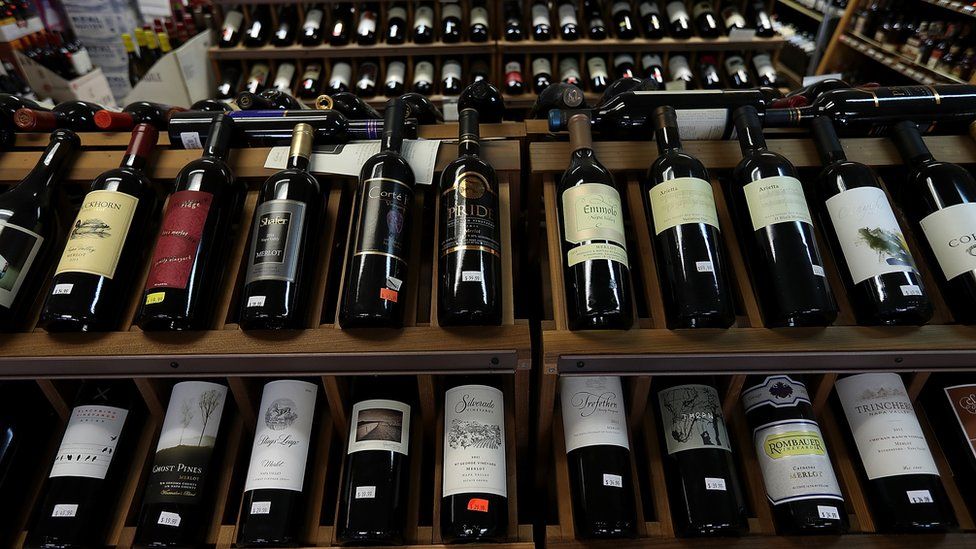 China has imposed tariffs of up to 25% on 128 US imports, including pork and wine, after US President Donald Trump raised duties on foreign steel and aluminium imports in March.
The tariffs affecting some $3bn (£2.1bn) of imports kick in on Monday.
Beijing said the move was to safeguard China's interests and balance losses caused by new US tariffs.
Mr Trump, however, has insisted that "trade wars are good", and that it should be "easy" for the US to win one.
The American authorities have already announced plans for further targeted tariffs for tens of billions of dollars of Chinese imports, the BBC's Chris Buckler reports from Washington.
They say that is in response to unfair trading practices in China that affect US companies but it raises the possibility of yet more action being taken in what has become a tit-for-tat trade battle, our correspondent adds.
When a country (USA) is losing many billions of dollars on trade with virtually every country it does business with, trade wars are good, and easy to win. Example, when we are down $100 billion with a certain country and they get cute, don't trade anymore-we win big. It's easy!

— Donald J. Trump (@realDonaldTrump) March 2, 2018
Relatively mild to start with
By Stephen McDonell, BBC News, Hong Kong
China's theft of foreign intellectual property is what sparked all this in the first place, according to Washington. If international companies want to operate in China they must hand over their intellectual property for the privilege, thus delivering the likes of German high-speed rail technology into the hands of Chinese engineers.
Yet now that China's retaliatory tariffs have kicked in, there are also those sympathetic with that argument who are worried that launching a potential tariff war is not the way to fix the problem. Naturally others say China has been getting away with this for years and tough measures were needed in order to force change.
There is also the overall imbalance in US-China trade but a large Chinese surplus, of course, means it is potentially much more exposed during a trade war than America. For this reason Beijing will want to negotiate a way out of this escalating tariff showdown.
Its first set of tariffs are relatively mild but they come in response to the first round of US tariffs and a second has already been announced. There are plenty more American companies to be hit and other nations, especially those in Europe and Asia, could soon find themselves dragged into this conflict.
Which products are affected?
US scrap aluminium and frozen pork will be subject to a 25% additional tariff - on top of existing duties.
Several other American foods including nuts, fresh and dried fruit, ginseng and wine will be hit by a 15% increase.
Rolled steel bars will likewise see a 15% rise in duties.
Why is this happening now?
China said the new tariffs were a retaliatory measure in light of Mr Trump's decision to raise duties on steel and aluminium imports.
But further tax hikes may lie ahead.
The White House said it was acting to counter unfair competition from China's state-led economy.
It remains to be seen if China will follow its opening gambit with stronger measures.
In theory, Beijing could tax US tech companies like Apple, for example. Such a move could force US tech giants to raise their prices to compensate.