Cambodia: Briton given jail sentence over 'pornography'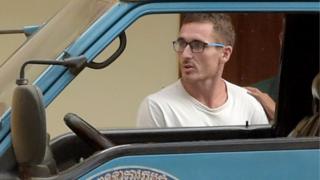 A British man has received a one-year suspended prison sentence in Cambodia for using "pornographic" photos to promote a pool party.
Daniel Jones, 31, was one of 10 foreigners detained by police in Siem Reap following a raid on a pub crawl and pool party on 25 January.
He insisted there was no sex or nudity at the party, which he promoted on Facebook with the line "Let's Get Wet".
Prosecutors argued the images were illegal and against Cambodian culture.
Judge Um Chan Thol handed down the maximum sentence, saying Jones had "unintentionally produced pornography that affects Khmer culture".
Jones has already served one month and 22 days on remand. The remaining 10 months of the sentence has been suspended.
Defending Jones, who denied the charge, lawyer Ouch Sopheaktra said: "There was no evidence against my client. As a lawyer, I am not happy with this decision."
The other nine foreigners - four Britons, two Canadians, a Norwegian, a New Zealander and a Dutch national - were deported after charges against them were dropped.
They all denied the charges and claim that photos showing partygoers are several years old and have nothing to with them.
Siem Reap is popular with tourists because it is close to the famous ancient ruins of Angkor Wat, Cambodia's biggest tourist site.
The country's nightlife scene has rapidly grown over the past few years as it has become more popular among backpackers and budget travellers.
This has sometimes placed tourists at odds with Cambodia's socially conservative Buddhist culture.
In 2016 the country announced a ban on tourists wearing "revealing clothes" from visiting the ancient temple park, after a number of foreign tourists were arrested and deported for taking nude photographs at the site.