Myanmar's Rohingya stuck in Bangladesh's 'no man's land'
By Anbarasan Ethirajan
BBC News, Tombru checkpoint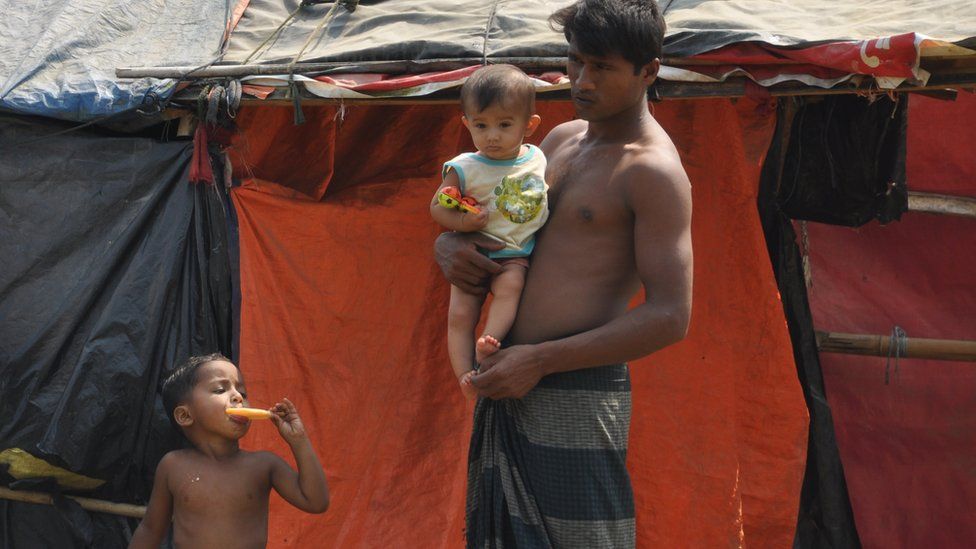 Even in no man's land, children know how to play and have fun.
Between rickety shacks and sewage-contaminated paths, there are children engaged in skipping games or playing with water from hand pumps, while adults sit and chat nearby.
But behind their makeshift homes, there's a razor-sharp fence, and behind that, watchful members of the Myanmar Border Police.
Dil Mohammed looks through that fence every day hoping that soon he will be allowed to go back to his village on the other side of the barrier in Myanmar's Rakhine state.
The irony is he is technically inside Myanmar territory, but he's not allowed to walk through the checkpoint to go home.
He is not alone. More than 5,000 Rohingya Muslims have taken shelter on what is called the "no man's land" - a small strip of land along the border between Bangladesh and Myanmar.
They were among the first batch of nearly 700,000 Rohingya who fled following attacks on their homes in August last year.
The camp at Tombru checkpoint, about 45km (28 miles) from Cox's Bazar, is separated from Bangladesh by a small canal. It is formally within Myanmar's territory - but fenced off from the rest of the country.
Displaced Rohingya who have taken shelter there are allowed to cross into Bangladesh for food rations and healthcare - but are barred from returning to Myanmar.
I had to cross four Bangladeshi border guard checkpoints to reach the heavily guarded area. I was not allowed on to Myanmar's territory- so I asked Mr Mohammed and his fellow residents to meet me on the Bangladeshi side.
At the camp, the Rohingya have set up shacks made up of bamboo poles and plastic sheeting - but living conditions are still dire - with sewage running alongside the pumps that provide drinking water.
Noorussan, one of the women in the camp, says she fled her village while the Myanmar military shot at her and her family.
"Life here in the camp is difficult," she told the BBC. "It is very hot here and difficult to get firewood for cooking. Sometimes doctors from Unicef visit here - otherwise there are no medical facilities."
Just behind the fence is a small hill which houses the guard posts of Myanmar's Border Guard Police. There are numerous checkpoints on a mud road which runs along the fence.
"We saw more border police on the other side. Sometimes they climb up and shout through loudspeakers ordering us to go into Bangladesh," said Mr Mohammed.
As we were walking along the canal, trucks dropped off several Myanmar border guards on the other side of the fence. The guards carrying rifles soon took up positions on the hill and appeared to monitor our moves.
Earlier this month, tensions escalated in the area. Bangladeshi border guards said Myanmar had suddenly increased its troop numbers along the border, and demanded they pull back.
A Myanmar government spokesman told AFP news agency that they increased security because they had received information on suspected Rohingya militants from the Arakan Rohingya Salvation Army group in the area. He insisted it was not aimed at antagonising Bangladesh.
The tense situation was defused after Myanmar apparently pulled back its troops. But Bangladeshi border guards questioned the claim that there were Rohingya militants in the "no man's land".
"For the last six months I haven't seen any sort of [militant] activity. Rather I have seen innocent women and children," said Lt Col Monjurul Hasan Khan, the area commander of the Bangladesh Border Guard.
The people living in the camps in "no man's land" are supposed to be some of the first to be repatriated to Myanmar, under a deal signed between the two countries late last year.
But the repatriation process seems to have stalled - with both sides reportedly asking for more details about the Rohingya to be sent back.
Bangladesh's Refugee Relief and Repatriation Commissioner, Mohammad Abul Kalam, says there are "a number of issues" remaining, including ensuring the "safe return" of repatriated individuals, and establishing where they would be returned to.
And few Rohingya Muslims are willing to return to Myanmar.
Sanjida Begum, who lives in the Balukhali refugee camp near Cox's Bazar, says she would only return if Myanmar "gives us nationality and accepts us".
"Otherwise, they will try to kill us and we will have to live in hiding on the hills. Why would we go back now?"