Korea talks: Kim Jong-un's touching concern for his Southern counterpart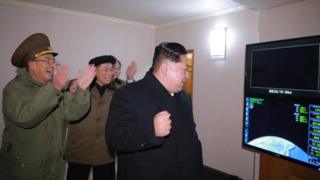 This week's fast-moving events on the Korean peninsula appear to have uncovered a wry sense of humour in the North's Supreme Leader, Kim Jong-un.
According to South Korean officials, Mr Kim remarked that the South's President, Moon Jae-in, would no longer be forced to get out of bed in the early hours due to North Korean ballistic missile tests.
"So far, if we fired a missile, President Moon Jae-in went through the trouble of convening a national security council meeting," Mr Kim was quoted as saying by South Korea's Yonhap news agency. "As I made up my mind today, President Moon will no longer have to wake up early in the morning."
North Korea typically held its missile tests at around 04:00 or 05:00 local time (19:30 or 20:30 GMT previous day), and it would be standard practice for President Moon to hold emergency meetings to assess the situation, Yonhap notes.
The comments were made at Monday's meeting between the North Korean leader and a Southern delegation which had travelled to Pyongyang to discuss expanding ties between the two nations.
Pyongyang has pledged to suspend all missile launches and nuclear tests pending summits with Mr Moon (in April) and US President Donald Trump (expected in May).
Mixed signals
While Mr Kim's concern for his Southern counterpart being roused from his bed in the small hours and enduring breakfasts of cold noodles with equally grumpy ministers and generals may go some way to humanise the North Korean government, it's a far cry from the rhetoric still coming out of Pyongyang.
On Wednesday, the day after the South Korean delegation had left Pyongyang bearing Kim Jong-un's invitation to meet Donald Trump for talks, state news outlets carried a commentary saying the US would "have to pay dearly for its military provocation" and calling it a "wrecker of peace on the Korean peninsula and source of war of aggression".
North Korea has, however, stopped criticising its southern neighbour for the time being, instead turning its fire on traditional enemy Japan, attacking the Tokyo government over the issue of World War Two sexual slavery.
But Pyongyang is continuing to push hard on the international public relations front, playing up the global fascination in The Leader's sister Kim Yo-jong, who attended Monday's banquet alongside Mr Kim's wife, Ri Sol-ju.
It would be easy to forget amid North Korea's masterful handling of the news agenda in the first months of 2018 that the country has repeatedly defied UN resolutions on its nuclear and ballistic missile programmes, been blamed for last year's murder of the Supreme Leader's half-brother Kim Jong-nam in Malaysia, and been accused of launching cyber-attacks in order to raise foreign currency.
North Korea is also listed by Human Rights Watch as "one of the most repressive authoritarian states in the world". In December 2013, Mr Kim's uncle and former mentor Chang Song-thaek was executed for "acts of treachery".
And while South Korea was gearing up for the Winter Olympics opening ceremony in February, North Korea paraded its Hwasong-15 ballistic missiles through the streets of Pyongyang just one day beforehand.
BBC Monitoring reports and analyses news from TV, radio, web and print media around the world. You can follow BBC Monitoring on Twitter and Facebook.