Mitsutoki Shigeta: 'Baby factory' dad wins paternity rights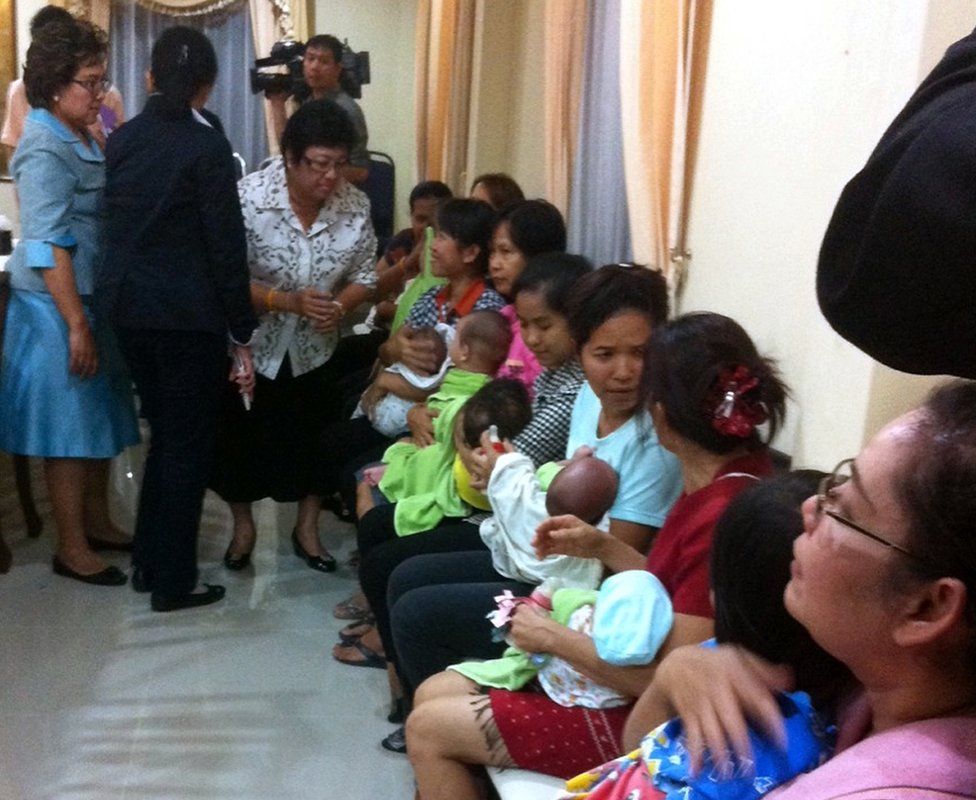 A Bangkok court has awarded paternity rights to a Japanese man over 13 babies he fathered through Thai surrogate mothers.
The ruling allows Mitsutoki Shigeta, 28, to pursue custody of the children.
The son of a wealthy entrepreneur, he caused controversy in 2014 when he was revealed to have fathered at least 16 babies via surrogates in Thailand.
His so-called "baby factory" case and others led to Thailand banning commercial surrogacy for foreigners.
Mr Shigeta, who was not present at the trial, was awarded "sole parent" rights after the Thai surrogates forfeited their rights, according to the court, which did not name him.
"For the happiness and opportunities which the 13 children will receive from their biological father, who does not have a history of bad behaviour, the court rules that all 13 born from surrogacy to be legal children of the plaintiff," Bangkok's Central Juvenile Court said in a statement.
Mr Shigeta was awarded custody of his three other children in 2015.
In 2014, he was investigated by Interpol for human trafficking after it emerged he had fathered 16 surrogate children in Thailand.
His Bangkok apartment was raided and police found nine surrogate babies, nannies and a pregnant surrogate mother there.
He left Thailand soon after, but later sued the Ministry of Social Development and Human Security for custody of the children.
'He wanted a very large family'
By Jonathan Head, BBC News, South East Asia correspondent
When a blurred airport security photo was published, more than three years ago, of Mitsutoki Shigeta, holding an infant as he left Thailand, there was fevered speculation over his motives for siring so many children with surrogate mothers.
Some of the children had already been taken to Cambodia, and the Thai police began investigating him for possible human trafficking.
But his lawyer insisted he simply wanted a very large family, and that as the son of a wealthy Japanese entrepreneur he was able to look after them properly.
A court in Bangkok has now accepted that explanation: Thai officials told the court they had travelled to Cambodia and Japan, and found he had enough carers and facilities to bring up the 13 children who are still in state care in Thailand.
What is known about the father?
Few details are known about the background of Mr Shigeta.
According to Japanese media, he is the son of an IT billionaire and paid between $9,300 (£6,600) and $12,500 to each of the surrogate mothers.
Thai media says Mr Shigeta is unmarried, owns several companies himself and has already made plans for the future of his children, including setting up trust funds for them.
After leaving Thailand four years ago, he was thought to have moved to Hong Kong and currently lives in Japan again.
Media reports also suggest he might have travelled to India and Ukraine to father children there.
Gradual transfer of custody
The 13 children will not immediately be transferred into Mr Shigeta's custody.
His lawyer told AFP news agency that he would contact the Social Welfare Ministry about next steps, adding that the timelines still had to be agreed to avoid "abrupt changes" for the children.
Mr Shigeta's case shed light on Thailand's booming surrogacy industry, as did the case of "Baby Gammy" which also emerged in 2014.
Baby Gammy's Thai surrogate mother alleged that he was abandoned by his Australian parents after they found out he had Down's Syndrome. They took his twin sister home.