Pakistan rescue to start for 'Killer Mountain' climbers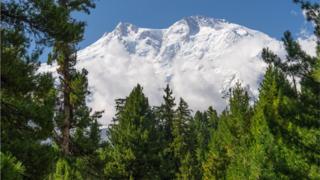 Efforts to rescue a Polish man and a French woman stranded on Pakistan's second highest peak will begin on Saturday, authorities said.
Tomek Mackiewicz and Elisabeth Revol were attempting to ascend Nanga Parbat, known as Killer Mountain, when they got stuck at 7,400m (24,280ft).
They used a satellite phone to call for help to descend the 8,120m mountain.
Climbers with binoculars at the base camp spotted Ms Revol trying to climb down, while Mr Mackiewicz was crawling.
"They had spent one night outside the camp and the Polish mountaineer has got frostbite and snow blindness so he is not able to climb down," a local climber in contact with the base camp team told the AFP news agency.
Four members of a team of Polish climbers attempting the first winter summit of nearby K2, the world's second highest mountain, will assist in the rescue operation.
They will be transported by a Pakistani army helicopter and "brought from K2 to Nanga Parbat and then the operation will begin," Asghar Porik of Jasmine Tours told Reuters.
Janusz Majer, who works with the Polish team currently scaling K2, told the news agency that they no longer had contact with the alpinists.
"We do not know in what condition [Mr Mackiewicz] is in. He hid himself in a crevasse to seek protection from wind. Tomasz in the past has spent a couple of nights above 7,000 metres, but with all the needed equipment ... Now he has no tent," Mr Majer said.
You may also be interested in:
Mountaineers nicknamed Nanga Parbat, in northern Pakistan, "Killer Mountain" after more than 30 climbers died trying to conquer it before the first successful summit in 1953.
Last year, a Spaniard and an Argentinean were presumed dead in an avalanche after they went missing trying to scale the peak.
In 2013, gunmen killed 10 foreign climbers and their Pakistani guide at the Nanga Parbat base camp.