Chung Hyeon: The Korean tennis star making history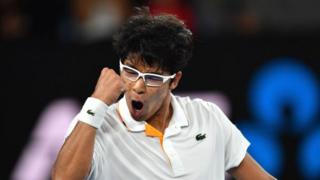 With his white-rimmed glasses and his easy-going attitude, Chung Hyeon has become one of the most talked about players at the Australian Open.
The 21-year-old has already made history as the first South Korean to reach a tennis Grand Slam quarter-final.
On Wednesday he beat American player Tennys Sandgren and will now come face-to-face with Swiss star Roger Federer at the semi-finals on Friday.
Chung, who comes from the South Korean city of Suwon, began his tennis career at the age of six.
His doctor had recommended that looking at the colour green would help with his weak eyesight. His father and older brother were both tennis players, and so naturally, he soon joined them.
At the age of 13, he moved to the IMG tennis training academy in Florida where he would be for the next two years. He later returned to South Korea and in 2014, turned pro.
But it wasn't until 2015 that his breakthrough came. Chung climbed 122 places in the world rankings and was voted "Most Improved Player" by his peers.
However, an abdominal injury in 2016 meant he missed out on both Wimbledon and the US Open.
The 58th-ranked player now trains back in South Korea in the capital Seoul under coach Neville Godwin, a former tennis player from South Africa.
Growing up, Chung looked up to Novak Djokovic for his "fantastic game and mental strength", calling him his idol. He went on to beat Djokovic in a match last Monday.
You might also like:
Going for gold
Since his meteoric rise, Chung has drawn praise, admiration and high expectations from his fellow Koreans on social media.
"There will be no player like Chung [for] at least the next 50 years," said one Twitter user in Korea.
"Perhaps he can even go for gold in the 2020 Tokyo Olympics," added Korean Rep An Min Suk of the ruling Democratic Party in a Facebook post.
And many noted he wasn't shy or visibly nervous, despite being up against the best tennis players in the world.
A video clip of him signing a camera was being shared on Twitter after his win on Wednesday, as well as an interview where he talks about whether he gets a lot of female attention.
And he's given quite a few light-hearted interviews since.
"He is one of the best players but more than that, [you can see] he's really enjoying the game," a Twitter user said.
The Australian Open, which is held in Melbourne, runs from 15-28 January.
Additional reporting by Minji Lee from BBC Korean.