Kabul attack: Americans among those killed, officials say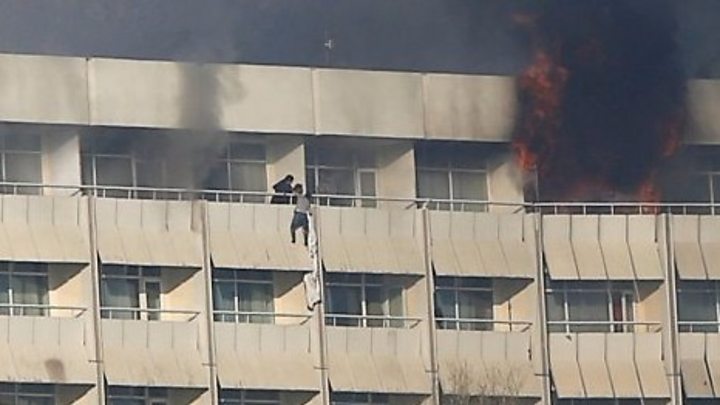 Several Americans were killed and injured in a Taliban raid at a luxury Kabul hotel, US State Department have officials said.
Saturday's 13-hour siege at the Intercontinental Hotel left more than 20 dead, including a dozen foreigners.
"We express our deepest condolences to our American families and to all the victims of the attack," spokeswoman Heather Nauert said in a statement.
The state department did not release the exact number of Americans killed.
The six Taliban militants who stormed the hotel in suicide vests were looking for foreigners, eyewitnesses say.
An eyewitness, who is not being named for security reasons, told the BBC he was spared after saying he was an Afghan. "Where are the foreigners?" they shouted.
Some 160 people were rescued after Afghan troops fought throughout the night to regain control of the building.
Some of the details of the attack remain unclear, but it is reported that in addition to the Americans, seven Ukrainians and one German also died in the attack, officials said.
"The attack on the hotel, once again, shows the depravity of terrorists who seek to sow chaos," Ms Nauert said.
"We are grateful for the bravery displayed by the Afghan National Defense and Security forces. Had it not been for their speedy recovery of the wounded, more lives may have been lost. We are in close contact with Afghan authorities regarding their investigation and stand firmly by the Afghan government."
The Afghan interior minister said the recent decision to transfer security to a private company had been a mistake.
The Taliban, which targeted the hotel in 2011, said it was behind the latest attack. A spokesman said in a statement quoted by AFP that the group had "killed tens of foreign invaders and their puppets".
Hotel manager Ahmad Haris Nayab said the gunmen had entered the state-owned hotel through a kitchen.
Security has been tightened in Kabul since last May, when a huge truck bomb killed at least 150 people.
However, there have been several attacks in recent months, including a bomb at a Shia cultural centre last month that killed more than 40 people.