Philippine news website Rappler has licence revoked by SEC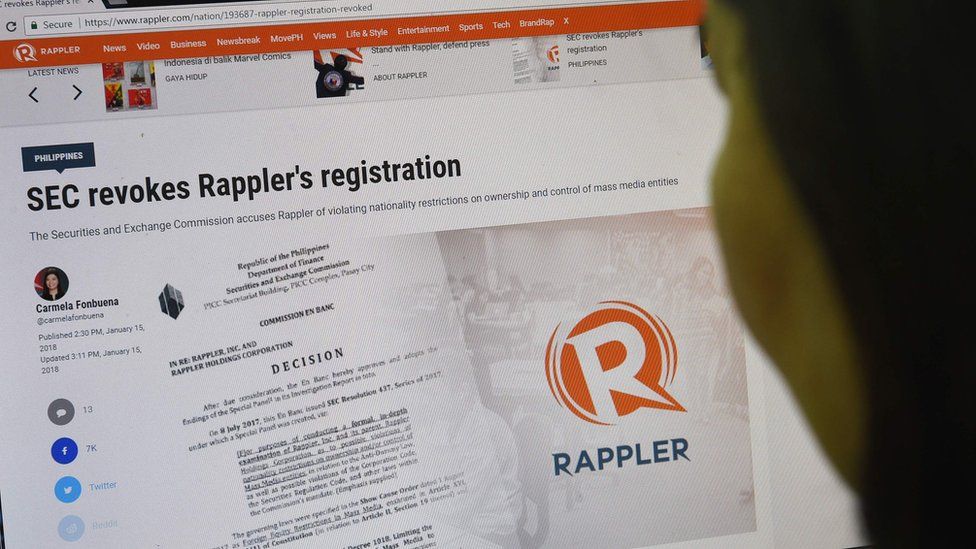 The Philippine government has revoked the operating licence of Rappler, one of the country's leading news websites.
Authorities said the media site, which has two US investors, had violated a clause in the constitution that limits media ownership to Philippine citizens.
The government has denied accusations that it is targeting media outlets critical of President Rodrigo Duterte.
Rappler, which has clashed with Mr Duterte over his controversial law-and-order policies, said it would appeal.
On Monday, a spokesman for Mr Duterte, Harry Roque, said the ruling by the Securities and Exchange Commission (SEC) was "not about infringement on the freedom of the press".
"The issue at hand is the compliance of 100% Filipino ownership and management of mass media," Mr Roque said.
"No one is above the law," he said, adding: "Rappler has to comply."
The SEC said the ruling was imposed because Rappler Holdings Corporation was in violation of Philippine constitution rules in relation to funds received from Omidyar Network, a company created by eBay founder and entrepreneur Pierre Omidyar, and international investment firm North Base Media.
It said the Rappler news website was "existing for no other purpose than to effect a deceptive scheme to circumvent the constitution".
Rappler maintains that any foreign investment received does not affect the website's ownership and described the move as "pure harassment".
Critics said the ruling handed down by the SEC was a blow to press freedom and "the right to speak truth to power".
Senator Paolo Benigno Aquino IV said the move to shut down Rappler was "a win for fake news, and a loss for dissenting voices and free speech".
It was "straight out of the dictator's playbook", said Senator Risa Hontiveros.
"I urge the public and all media practitioners to defend press freedom and the right to speak truth to power," she said in a statement.
Rappler's acting managing editor, Chay Hofilena, told AFP news agency that the company intends to file a court appeal against the SEC ruling, which is due to take effect in 15 days.