Vietnam energy executives stand trial on corruption charges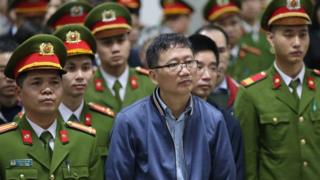 Senior executives from Vietnam's state oil company are standing trial in Hanoi in a crackdown on corruption in the country's energy and banking sectors.
The 22 defendants include the ex-head of PetroVietnam Construction, Trinh Xuan Thanh, and a senior Communist Party official.
Germany says Mr Thanh was abducted from a park in Berlin last July, but Hanoi insists he returned home voluntarily.
He is accused of corruption and could face the death penalty if found guilty.
The German government described Mr Thanh's suspected abduction by Vietnamese spies as a "scandalous violation" of its sovereignty. Foreign Minister Sigmar Gabriel said it evoked "thriller movies about the Cold War".
Also on trial is Dinh La Thang, a former Politburo member and one of the most senior Communist Party officials to go on trial in decades. He is accused of economic mismanagement and faces up to 20 years in jail.
Some of the former executives, who are alleged to have caused massive losses at PetroVietnam, could face the death penalty if convicted of the most serious offences.
The government's official news website posted about the trial which is due to last until 21 January.
It said that 12 defendants are accused of "violation of state regulations on economic management causing serious consequences" and eight are accused of embezzlement. Some are accused of both.
The case comes amid a massive anti-corruption crackdown in Vietnam, one of Asia's most corrupt nations. It is ranked 113th out of 176 countries in Transparency International's corruption perceptions index.
The government has vowed to tackle the issue in order to boost economic growth. In September, the former head of a major Vietnamese bank was sentenced to death for fraud.
But analysts say the crackdown, while tackling corruption, has also mainly targeted opponents of Communist Party chief Nguyen Phu Trong.